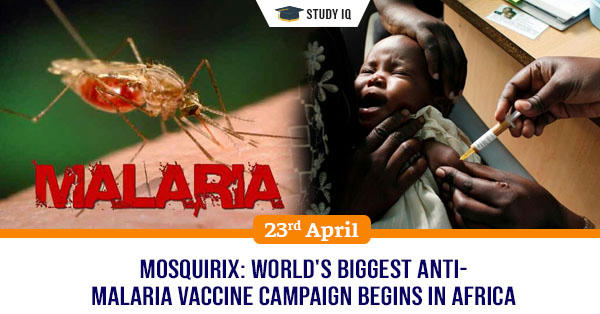 Mosquirix: World's biggest anti-malaria vaccine campaign begins in Africa
Date: 23 April 2019
Tags: Biotechnology
The world's first biggest anti-malaria vaccine (Mosquirix) campaign has started in three African countries. Malawi was the first country to begin use this vaccine as part of routine childhood immunization programs and will be followed by Ghana and Kenya.
Anti-malaria vaccine campaign
Under it around 360,000 children less that year old in three African countries will be vaccinated with anti-malaria drug as part of pilot project to help reduce the incidence of the deadly disease. The pilot project which will run until 2022.
Mosquirix
It is recombinant protein-based malaria vaccine. It is scientifically known as RTS,S and trade name is Mosquirix.

It has been developed by British Pharmaceutical company GlaxoSmithKline in partnership with PATH Malaria Vaccine Initiative.

It is the world's first licensed malaria vaccine and also first vaccine licensed for use against human parasitic disease of any kind. It was approved for use by European regulators in July 2015.

It triggers immune system to defend against first stages of infectious disease shortly after malaria parasite enters bloodstream through mosquito bite.

Previous Trails:

Mosquirix vaccine has already been tested on 15, 000 people in smaller clinical trials in 7 countries. The clinical trials had taken place in span of five years revealed that malaria cases had reduced by 40% mostly among babies of 5 to 7 month old. According to World Health Organization (WHO), nearly 40% efficacy this vaccine is not high in comparison with vaccines for other diseases, but it will add to the preventative measures, such as insecticides and bed nets already being used.
Malaria
It is transmitted by female Anopheles mosquito. It is widespread in sub-Saharan Africa. In severe cases. It can cause seizures, coma or death. Children are particularly vulnerable to this vector borne disease and every year, around 250,000 youngsters die because of it.