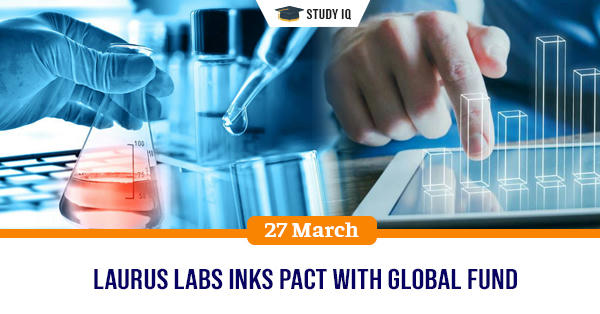 Laurus Labs inks pact with Global Fund
Date: 27 March 2019
Tags: Biotechnology
Drug maker Laurus Labs has entered into strategic partnership agreement with The Global Fund to Fight AIDS, Tuberculosis and Malaria. It is three-and-a-half-year pact that will fetch company volume commitments from fund for treatment of HIV/AIDS.
Under this pact, Laurus Labs has also received and executed order for the Global Fund in February 2019 that involved supplies of its fixed dose combination (FDC) drug Tenofovir/Lamivudine/Dolutegravir (TLD) to high disease-burden countries in sub Saharan African region.
Global Fund to Fight AIDS, Tuberculosis and Malaria
It is international financing organization that aims to attract, leverage and invest additional resources to end epidemics of HIV/AIDS, TB and malaria to support attainment of SDG established by UN.

It is public-private partnership organization i.e. operates in partnership model between governments, civil society, private sector and people to accelerate end of three diseases.

It is world's largest financier of AIDS, TB, and malaria prevention, treatment, and care programs. It was started in January 2002. It maintains its secretariat in Geneva, Switzerland.

It is financing mechanism rather than an implementing agency. Programs are implemented by in-country partners such as ministries of health, while Global Fund secretariat monitoring programs.