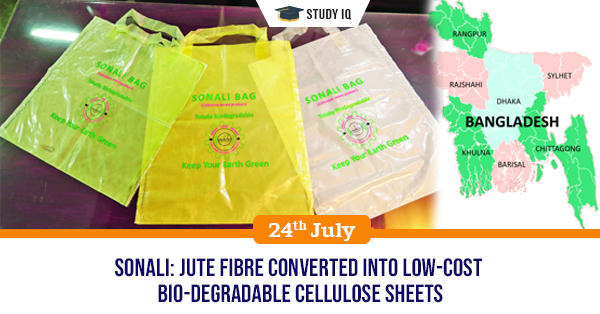 SONALI: Jute fibre converted into low-cost bio-degradable cellulose sheets
Date: 24 July 2019
Tags: Biotechnology
Scientists from Bangladesh have developed method to convert Jute fibre into low-cost bio-degradable cellulose sheets named 'Sonali' (means golden in Bengali)which can be used as wrapping material and carrying bag. It was developed by state-run Bangladesh Jute Mills Corporation (BJMC). The commercial production of these bags is likely to start by the year-end.
About Sonali
The physical qualities of these low-cost bio-degradable cellulose sheets from jute fibre are quite similar to non bio-degradable plastic. The eco-friendly jute poly bags made up of Sonali sheets look and feel much like plastic ones. They are not harmful for human health. They can be used as greener throwaway bags mainly used in garments and food packaging work as wrapping material and carrying bag
Challenges: The large scale adoption of Sonali sheets is the relatively costlier as compared to production of polythene (plastic). However, cost of production of Sonali sheets on a large scale is expected to bring down the cost. For this purpose Bangladesh Government has approved US $900000 dollars in April 2019 from its climate change fund to help in large-scale production of these eco-friendly green bags.