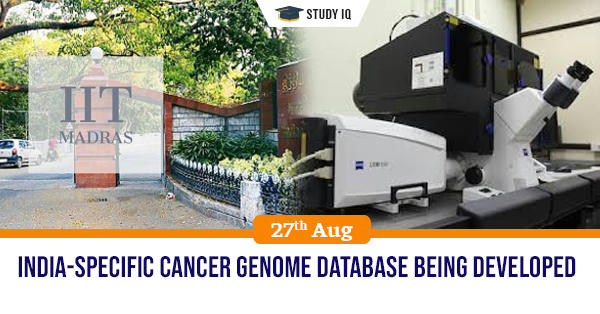 India-Specific cancer genome database being developed
Date: 27 August 2019
Tags: Biotechnology
Issue
The Union Health Ministry, in collaboration with the Indian Institute of Technology-Madras, is developing India-specific cancer genome database that will help identify biomarkers specific to the Indian population.
Background
According to the National Cancer Registry Programme of the India Council of Medical Research (ICMR), more than 1300 Indians die every day due to cancer. Between 2012 and 2014, the mortality rate due to cancer increased by approximately 6%.

Cancer burden in India has more than doubled over the last 26 years, the highest increase among all therapy areas.This makes research in cancer very important.
Importance of research
To concentrate on its prevention, researchers are focusing on genetics so that personalised drugs can be developed. It also aims at public-private partnership to generate funds for cancer treatment.

This will help in early diagnosis, and also identify drug targets for the Indian population.

It would reduce the cost of genomics treatment for cancer. Samples taken to Western countries for testing, costs Rs.5- Rs.7 lakh. When done in India, the cost could come down to Rs.50,000.