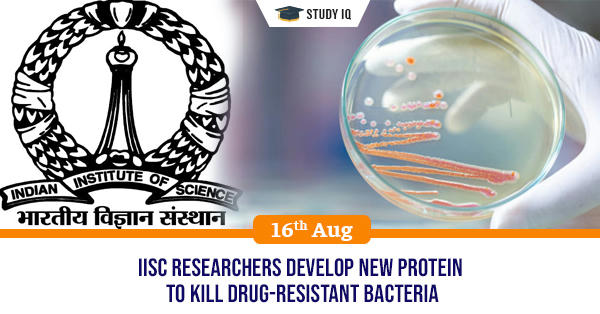 IISc researchers develop new protein to kill drug-resistant bacteria
Date: 16 August 2019
Tags: Biotechnology
Issue
Researchers at the Indian Institute of Science (IISc.) have designed an Anti-Microbial Peptide (AMP) that, researchers say, can effectively and quickly kill a multidrug-resistant bacterium called Acinetobacter baumannii.
Background
Antimicrobial resistance

(AMR or AR) is the ability of a microbe to resist the effects of medication that once could successfully treat the microbe.

Resistant microbes are more difficult to treat, requiring alternative medications or higher doses of antimicrobials. These approaches may be more expensive,

more toxic

or both.
Details
Researchers used a bioinformatics approach to design a new short protein (peptide) called Omega76 that can kill A. baumannii

by breaking down its cell membrane.

It was also found that high doses of Omega76 given for prolonged periods did not produce any toxic effects. Since it is safe and effective, it is a promising candidate for developing new antibiotics,

While standard drugs act by "blocking specific pathways or processes in bacterial cells, bacteria can mutate to gain resistance against such drugs.

Anti-microbial peptides (AMPs

) actually punch holes in the bacterial cell membrane. The chances of drug resistance are much lower because they act by multiple ways and cause actual physical damage.