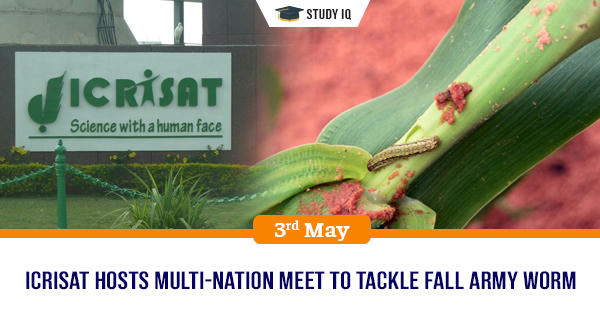 ICRISAT hosts multi-nation meet to tackle Fall Army Worm
Date: 03 May 2019
Tags: Biotechnology
International Crops Research Institute for Semi-Arid Tropics (ICRISAT) hosted multi-nation workshop on 'Fall Armyworm management in Asia' in Hyderabad, Telangana. It was aimed at understanding challenges and find solutions to tackle the rapidly growing problem of Fall Armyworm (FAW). It was attended by representatives from Bangladesh, Myanmar, Sri Lanka, India and some other South and South-East Asian countries.
What is Fall Armyworm (FAW)?
It is lepidopteran pest that feeds in large numbers on stems and leaves of more than 80 plant species. It causes extensive damage to crops such as maize, rice, sorghum and sugarcane. It also attacks vegetable crops and cotton.
It is scientifically known as Spodoptera frugiperda. The female moth of FAW lays eggs and caterpillars hatching from these eat parts of host crop plants, before pupating and turning into new moths.

The adult moth of FAW migrates very fast — almost 100 km every night and nearly 500 km before laying eggs. It can, therefore, invade new areas quickly.

Also, each female moth is capable of laying 1,500 eggs on average, thus it outbreak has catastrophic impact on crops.

It was first reported in 2016 in West Africa. It was detected mainly in maize fields. Since then it has quickly assumed epidemic proportions and spread to over 44 African countries.

In India, it was first reported in Karnataka and also parts of Andhra Pradesh, Telangana, Tamil Nadu, Maharashtra and Gujarat.
International Crops Research Institute for the Semi-Arid Tropics (ICRISAT)
It is international non-profit organization which conducts agricultural research for rural development in the semi-arid tropics (SAT) region. It was established in 1972 by consortium of organisations convened by the Ford and the Rockefeller foundations. It is headquatered in Hyderabad, Telangana. Its charter was signed by FAO and UNDP. It performs crop improvement research on the following crops: Pigeonpea, Chickpea, Pearl millet, Groundnut, Sorghum, Finger Millet and Small millets.