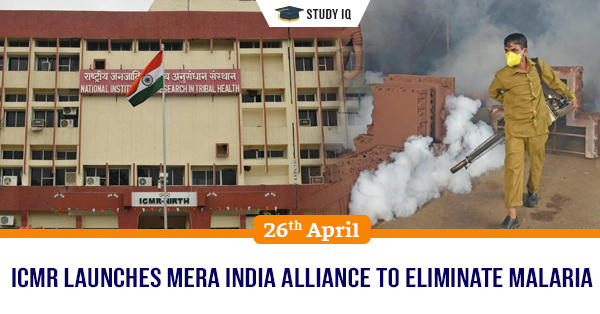 ICMR launches MERA India alliance to eliminate malaria
Date: 26 April 2019
Tags: Biotechnology
Indian Council of Medical Research (ICMR) has launched Malaria Elimination Research Alliance (MERA) India to plan and scale up research to eliminate Malaria from India by 2030. It is conglomeration of partners working on malaria control. It was launched on the occasion of the World Malaria Day 2019 (observed on April 25).
MERA India alliance
Its objective is to prioritise, plan, conduct, and scale up research in coordinated way to have tangible impact on population who are at risk of malaria.

It will facilitate trans-institutional coordination and collaboration around a collaborative research agenda.

It will not duplicate international efforts to eliminate Malaria rather complement the efforts on a national scale.

It will provide common platform to conglomeration of partner organisations working on malaria control and shared research agenda and resources.
Background
India has made impressive progress in malaria control in the recent years. The malaria burden in India declined by over 80% from 2.03 million cases in 2000 to 0.39 million in 2018. Deaths by malaria also declined by over 90% from 932 deaths in 2000 to 85 in 2018. National Vector Borne Diseases Control Program (NVBDCP) has developed comprehensive framework to achieve "Malaria free India by 2030". Its National Strategic Plan recognises critical role of research to support and guide malaria elimination efforts.
Indian Council of Medical Research (ICMR)
It is India's apex scientific body for formulation, coordination and promotion of biomedical research.

It functions under Department of Health Research, Ministry of Health and Family Welfare. It is headquartered in New Delhi.

It was established as Indian Research Fund Association (IRFA) in 1911, making it one of the oldest and largest medical research bodies in the world.