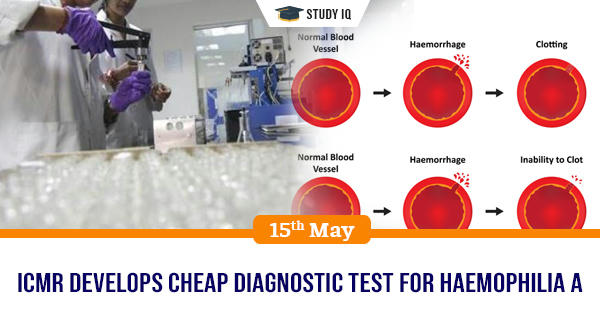 ICMR develops cheap diagnostic test for Haemophilia A
Date: 15 May 2019
Tags: Biotechnology
Indian Council of Medical Research (ICMR)'s National Institute of Immunohaematology, Mumbai, has developed cost-effective Point-of-Care (POC) diagnostic test for severe Haemophilia A and Von Willebrand Disease (VWD). It is claimed to be world's first POC test for specific diagnosis of any common bleeding disorder.
POC diagnostic test
This newly developed rapid test kit can be used for diagnosis of undiagnosed patients/menorrhagia cases/post-partum haemorrhage (PPH), gynaecological complications with bleeding history, recovery of factors in the transfused Haemophilia A patients and also for differential diagnosis of both the diseases. With help of it, diagnosis can be done within 30 minutes of blood sample collection. The working cost of these kits is less than Rs. 50 in comparison to existing conventional test for the diseases that costs around Rs. 4,000 to 1,0000.
Background
Haemophilia A and Von Willebrand Disease (VWD) are commonest among bleeding disorders. VWD is a genetic disorder caused by missing or defective Von Willebrand factor (VWF), a clotting protein. Whereas Haemophilia is hereditary bleeding disorder, in which person lacks, or has low levels of proteins called 'clotting factors' and the blood does not clot properly as result.
Patients with severe Haemophilia A or VWD can have life threatening spontaneous or post-traumatic bleeding like brain haemorrhage and gastrointestinal bleeding or they may have bleeding into joints or superficial bleeding from the nose or gums.
As per health data, incidence of Haemophilia A is 1 per 10,000 male births and that of vWD is around 1% of the general population. In India, there are around roughly 80,000-1,00,000 severe haemophilia cases. Lack of awareness, lack of diagnostic facilities, high cost of tests are some of the factors for the underdiagnosis of bleeding disorders in the country.