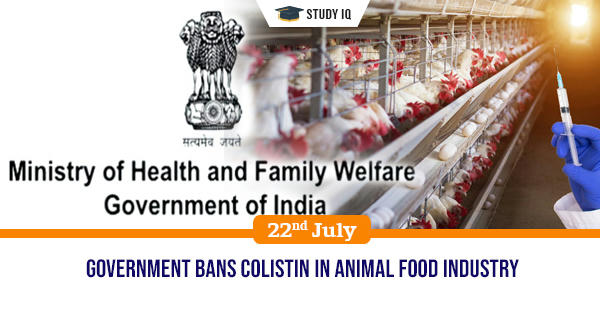 Government bans Colistin in animal food industry
Date: 22 July 2019
Tags: Biotechnology
Union Ministry of Health and Family Welfare has issued order prohibiting manufacture, sale and distribution of colistin and its formulations for food-producing animals, poultry, aqua farming and animal feed supplements. This ban was imposed under the provisions of Drugs and Cosmetics Act, 1940. The Health Ministry order directs colistin manufacturers to affix label on container reading thus: Not to be used in food producing animals, poultry, animal feed supplements and aqua farming on the package, insert and promotional literature.
Significance
This ban order by Health Ministry is seen by activists across the country as the move as a "massive victory" for the movement against anti-microbial resistance (AMR). It will help to reduce overuse, misuse and arbitrary use of colistin and thus ensuring colistin does not enter food people eat, and thereby, people don't develop resistance to the antibiotic within the country. It will limit Colistin to therapeutic usage only, thus help in reducing chances of developing resistance to it.
About Colistin
It is valuable, last-resort antibiotic that saves lives in critical care units. It is effective against most Gram-negative bacilli. It is also known as polymyxin E. It is produced by certain strains of the bacteria Paenibacillus polymyxa.
Issues with it: In recent years, medical professionals have been alarmed by number of patients who have exhibited resistance to the drug. Late last year, researchers from Apollo Cancer Hospital, Chennai claimed that samples of raw food lifted from across Chennai had tested positive for colistin-resistant bacteria. It is widely used in animal feed as a growth supplement (mostly in poultry industry to fatten chickens).
Way forward: Bulk of colistin (nearly 95%) is imported from China, thus now it is imperative on Government to stop importing it within a short time to avoid is misuse.