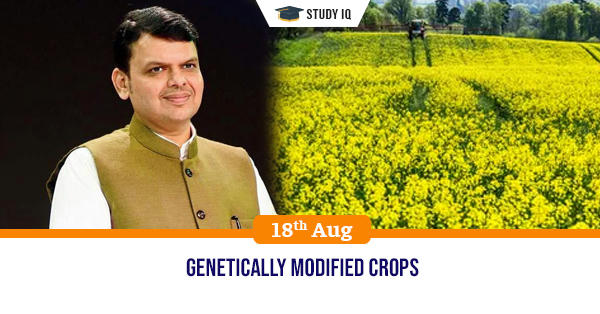 Genetically Modified crops
Date: 18 August 2019
Tags: Biotechnology
Issue
Maharashtra Chief minister-led panel has favored using genetically modified oil seed crops in restricted places.
Background
The Chief Ministers' Panel on Agriculture is deliberating with other state governments on whether to permit genetically modified (GM) crops in the country in' restricted spaces'. The move may take time as some state governments have opposed the introduction of GM crops.

The issue of use of GM crops is a much debated one due to fears arising from various sections including environmentalists.
What are GM crops?
Genetically Modified or GM Crops are that type of plants in which DNA has been modified through genetic engineering for imbedding a new trait to the plant which does not occur naturally in the species. Foods produced from or using GM organisms are often referred to as GM foods.
Potential of GM crops
India exports 65% edible oil and to reduce this quantity, we need to develop a variety of oilseeds. GM crops are important in this regard.

GM organisms

are likely to include plants with increased nutrient levels, plants producing pharmaceutically important molecules and plants with improved resistance to diseases, cold, or drought, thus suitable for increasing food security.

It reduces the use of pesticide and insecticide during farming. It can feed a rapidly increasing population because it shows dramatically increased yields. It can produce more output in small area of land.
Drawbacks of GM crops
The production imposes high risks to the disruption of ecosystem and biodiversity because the "better" traits produced from engineering genes can result in the favoring of one organism. Hence, it can eventually disrupt the natural process of gene flow.

It increases the cost of cultivation and more inclined towards marketization of farming that work on immoral profits.

The transgenic crops endanger not only farmers but also the trade, and the environment as well. It is biologically altered. Hence, biotech foods may pose a human health risk.