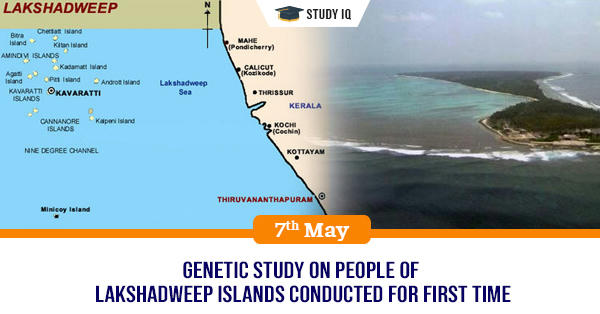 Genetic study on people of Lakshadweep Islands conducted for first time
Date: 07 May 2019
Tags: Biotechnology
Scientists from CSIR-Centre for Cellular and Molecular Biology (CCMB) for first time have conducted genetic study on people of Lakshadweep Islands.
About Study
Scientists had analyzed DNA samples of 557 individuals from eight major islands for mitochondrial DNA and 166 individuals for Y chromosome markers. They studied the major islands of Andorth, Agatti, Chetlat, Bitra, Kalpeni, Kadmat,Kiltan and Minicoy of Lakshadweep.
Findings of this genetic study
Majority of human ancestry in Lakshadweep is largely derived from South Asia with minor influences from East and West Eurasia. There is close genetic link of Lakshadweep islanders with people from Maldives, Sri Lanka and India.

There was no evidence of early human migration through the Lakshadweep islands. There is strong founder effect for both paternal and maternal lineages which is sign that the island population had limited genetic mixing.

It defies earlier presumption that Lakshadweep Islands might have presence of genetic signatures of ancient people such as Andamanese and Australian aboriginals. However, still the genetic composition of first human settlement on Lakshadweep is not clear.
Lakshadweep Islands
It is archipelago of 36 islands in Laccadive Sea, scattered over approximately 78,000 square km of Arabian Sea. These islands are located 200-440 kms off the south-western coast of India. Its main islands are Kavaratti, Agatti, Minicoy, and Amini. Minicoy Island is separated from rest of Lakshadweep by Nine Degree Channel, whereas entire group of Lakshadweep islands are separated from Maldives by Eight Degree Channel. It is Union Territory and governed directly by Union Government. Its all islands form a single Indian district and smallest Union Territory of India. Kavaratti is its capital. It comes under jurisdiction of Kerala High Court.