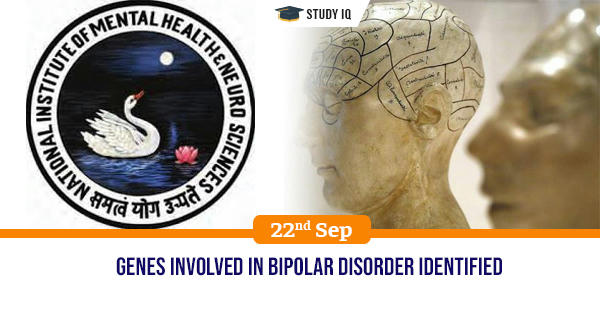 Genes involved in bipolar disorder identified
Date: 22 September 2019
Tags: Biotechnology
Issue
A study by researchers from the Jawaharlal Nehru Centre for Advanced Scientific Research (JNCASR) and the National Institute of Mental Health and Neurosciences (NIMHANS), in Bengaluru, identifies two specific genes which may be related to bipolar disorder.
Background
The experiment involves doing thousands of genotyping reactions and a large amount of sequencing of reactions for a large family with several affected members. But researchers have clarified that, not all those at risk may develop the disease.
Details
In a family if there are multiple members with the disorder, then those genes that are shared among the ill members, and not shared by the unaffected members can help identify the responsible gene.

The group identified regions within chromosome 1 and chromosome 6 and, subsequently, found that variants of two genes (KANK4 and CAP2) were the likely candidates.

Since the human genome is over three billion base pairs long, researchers use a number of markers to identify which region of the genome is shared, and look up the gene in that region.

The researchers tell that the mutations in KANK4 and CAP2 are rare variants and occur in less than 1% of the population.

Understanding the consequences of this variation in biological processes in the brain and further analysis of these two genes in people with bipolar disorder will be beneficial and help understand the biological aspects of the disease.
Bipolar disorder
Bipolar disorder is an illness that affects about 0.8% of the global population. Also known as manic-depressive illness, it is characterised by mood swings, irrational behaviour and phases of mania or extreme highs, and at other times, phases of depression.