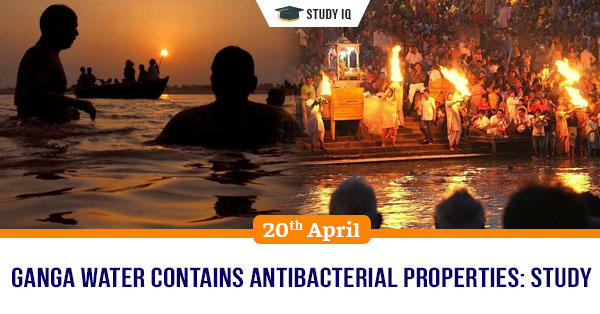 Ganga Water contains antibacterial properties: Study
Date: 20 April 2019
Tags: Biotechnology
According to study 'Assessment of Water Quality and Sediment to Understand Special Properties of River Ganga,' water of Ganga river contains significantly higher proportion of organisms with antibacterial properties.
About Study
It was commissioned by Union Water Resources Ministry. It was conducted by Nagpur-based National Environmental Engineering and Research Institute (NEERI), a CSIR lab.
Its objective was to probe "unique properties" of Ganga River. It had assessed water quality for 'radiological, microbiological and biological' parameters in Bhagirathi, a feeder river of Ganga and along its stretch at 20 sampling stations.
During this study, five pathogenic species of bacteria (Escherichia, Salmonella, Enterobacter, Shigella, Vibrio) were selected and isolated from Ganga, Yamuna and Narmada Rivers and their numbers were compared with bacteriophages.
Bacteriophages: It literally means bacteria eater. It is type of virus that destroys bacteria. It is composed of nucleic acid molecule that is surrounded by protein structure. Bacteriophage attaches itself to susceptible bacterium and destroys their host cell.
Findings of the study
Ganga river water particularly in its upper Himalayan stretches contains significantly higher proportion of organisms with antibacterial properties as compared to other Indian rivers. These bacteriophages have great potential as antibacterial pharmaceutical. The water of this holy water contains almost 1,100 kinds of bacteriophage isolated from Mana to Haridwar, and Bijnor to Varanasi. It is approximately three times more in proportion than bacterial isolated in other rivers. This scientific perspective supports the mysterious claim that Ganga water possesses self-cleansing and healing properties has to do 'antibacterial' elements.
Previous Similar Studies
In 1890s, British bacteriologist Ernest Hankin had studied bacterial properties of River Ganga and had found that colonies of cholera bacteria thrived in tapped water quickly died in Ganges water. He used boiled Ganges water and filtered Ganges water in his experiment and established that while filtered water continued to show antibacterial effect and the boiled water did not.

Scientists from IIT Roorkee had isolated super-phage from water of Ganga River and decoded its lysine gene and had cloned it to produce lysine protein having great potential as an antibacterial pharmaceutical.