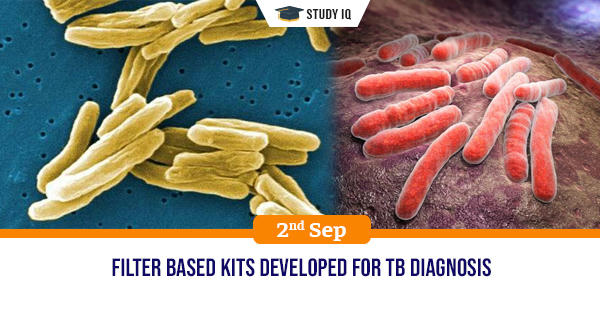 Filter based kits developed for TB diagnosis
Date: 02 September 2019
Tags: Biotechnology
Issue
To address the TB diagnostic challenges, a multi-institutional team has developed three cost-effective kits that improve the sensitivity of smear microscopy, enable transport of sputum samples at ambient temperature without using bio-safe containers, and extract DNA for diagnosing drug-resistant TB.
Background
In India, each year, approx. 220,000 deaths are reported due to Tuberculosis. Between 2006 and 2014, the disease cost Indian economy USD 340 billion. This public health problem is the world's largest tuberculosis epidemic.

India bears a disproportionately large burden of the world's tuberculosis rates, as it continues to be the biggest health problem in India.
Details
The three kits developed are TB Detect, TB Concentration & Transport, and TB DNA Extraction.

The TB Detect kit is for diagnosis using LED fluorescence microscopy, while the TB Concentration & Transport, and the TB DNA Extraction kits together are for detection of drug-resistance.

The TB Detect kit helps increase the positivity of LED fluorescence microscopy by about 5%, while the TB DNA Extraction kit allows the detection of drug-resistant TB bacteria with a high level of sensitivity.

TB detection kit uses a simple filter-based system to separate TB bacteria from the sputum to improve the sensitivity of LED fluorescence microscopy. In this, the sputum, which is viscous, is first liquefied using a proprietary reagent and pre-filtered.

The liquefied sputum containing the TB bacteria then comes in contact with a highly porous, plastic membrane filter made up of multiple fibrous pads kept at the base of the filter device. While the sputum gets sucked by the fibrous pad due to capillary forces, the bacteria remain on the membrane.

The membrane concentrates the bacteria in a small surface, which is about 1 cm in diameter. This leads to an increase in the detection limit by separating the bacteria from sputum.
Advantages of System
It becomes possible to detect TB bacteria even when they are fewer in number.

It also takes less time to examine a sample under a microscope which one minute whereas it is three-five minutes when the sputum is spread on a glass slide.

The TB concentration & transport kit now makes it easy and simple to transport samples by transporting it in sealed covers at ambient temperature making containment at low temperature redundant. This is because the bacteria are killed using a disinfectant.