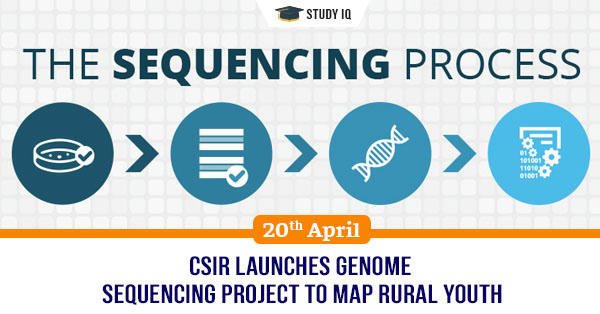 CSIR launches Genome Sequencing Project to map rural youth
Date: 20 April 2019
Tags: Biotechnology
Council of Scientific and Industrial Research (CSIR) has launched indigenous genetic mapping project of nearly 1,000 rural youth from length and breadth of the country. The project is aimed at educating students on "usefulness" of genomics and to determine unique genetic traits of citizens and their susceptibility (and resilience) to disease. This is the first time that such large sample of Indians will be recruited for detailed genome sequencing study. It will prove India's capabilities at executing whole-genome sequencing
Genome Sequencing Project
The genome sequencing project will be done at CSIR laboratories namely Centre for Cellular and Molecular Biology (CCMB), Hyerabad and Institute of Genomics and Integrative Biology (IGIB).
Methodology: The genomes will be sequenced based on blood samples. Every person whose genomes are sequenced will be given a report. The participants will be told if they carry gene variants that make them less responsive to certain classes of medicines.
Genome
It is complete set of organism's Deoxyribo Nucleic Acid (DNA) i.e. genetic blueprint of oraganis. Each genome contains all of information needed to build and maintain that organism. Human genome has about 3.2 billion base pairs.
Genome sequencing: It is process of determining exact order of base pairs in segment of DNA. It helps in linking disease and unique genetic make-up of each individual. Globally, many countries have undertaken genome sequencing of a sample of their citizens to determine unique genetic traits, susceptibility (and resilience) to disease.