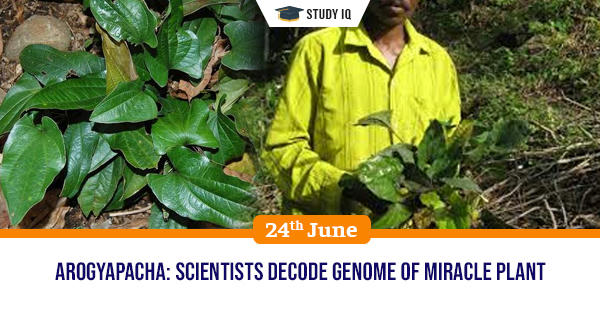 Arogyapacha: Scientists decode genome of miracle plant
Date: 24 June 2019
Tags: Biotechnology
Scientists from University of Kerala have decoded genetic make-up of Arogyapacha (Trichopus zeylanicus) a highly potent medicinal plant found in Kerala. The genetic decoding project will open up a new window to the plant's molecular secrets. It will serve as a valuable resource to expedite research on Arogyapacha. The manuscript on genome has been accepted for publication in G3: Genes, Genomes and Genetics, a scientific journal published by the Genetics Society of America.
Arogyapacha
It is known as 'miracle plant'. In Malayalam arogyapacha means 'health green or green that gives strength '. It is endemic to the Agastya hills in the southern Western Ghats

It is known for its traditional use by the Kani tribal community to combat fatigue. These tribal people prepare tonic named "Jeevani " from this plant.

It is quintessential wonder herb as it has anti-oxidant, aphrodisiac, anti-microbial, anti-inflammatory anti-tumour, anti-ulcer, hepatoprotective and anti-diabetic properties.

It also has immune-enhancing and treating liver disease, stomach ulcers, fatigue, and sexual performance problems.