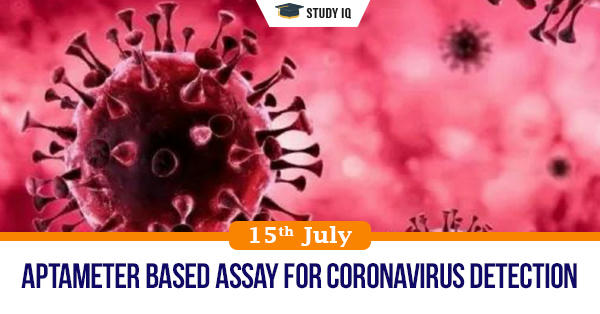 Aptameter based assay for coronavirus detection
Date: 15 July 2020
Tags: Biotechnology
Issue
Researchers from the Faridabad-based Translational Health Science and Technology Institute (THSTI) have developed an Aptamer-linked immobilised sorbent assay (ALISA) based detection assay for novel coronavirus (SARS-CoV-2) using DNA aptamers.
Background
DNA aptamers are small, single-strand structured DNA molecules that bind to a specific target with high affinity and specificity.
Details
The aptamer binds to the full-length spike protein of the virus, which plays a crucial role in binding to the receptors found on human cells, and gains entry into the cells.

The assay was tested using 250 nasopharyngeal swab samples, and the assay has 90% sensitivity and 99% specificity.

After extensive screening and optimisation, researchers developed two aptamers, and the performance of both aptamers is comparable in terms of sensitivity and specificity.

In one, the aptamer has 75 DNA nucleotide bases, while the other has only 44 DNA nucleotide bases.

The nucleotide bases in the aptamer bind to the spike protein (antigen) and help in the detection of positive samples.

Since the aptamers are synthetic molecules, it will be easy to scale-up production and there will be very little variation from one batch to another.