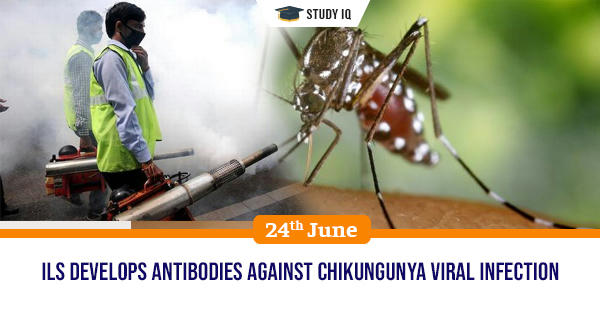 ILS develops antibodies against Chikungunya viral infection
Date: 24 June 2019
Tags: Biotechnology
Institute of Life Sciences (ILS) has successfully developed antibodies against Chikungunya viral (CHIKV) infection. These antibodies fight against the non-structural proteins - nsP1, nsP3 and nsP4 of CHIKV. The antibodies were developed following decade-long research on CHIKV infection at the ILS laboratory headed by senior molecular virologist Dr. Soma Chattopadhyay. She has been selected for Biotech Product, Process Development and Commercialisation Award 2019 by the Department of Biotechnology.
Chikungunya viral (CHIKV) infection
It is a viral disease belonging to genus Alphavirus. Its name chikungunya originates from a verb in Kimakonde language, meaning 'to become contorted'. This refers to the 'stooped' appearance of those suffering with joint pain.

Tranmsimission:

It is transmitted to humans by infected mosquitoes, most commonly, Aedes aegypti and Aedes albopictus, two species which also transmit other mosquito-borne viruses, including dengue. These vector mosquitoes are found biting throughout daylight hours, while early morning and late afternoon are peak timings of their activities

Signs and Symptoms

: It causes High fever (40°C/ 104°F), Joint pain (lower back, ankle, knees, wrists or phalanges), Joint swelling, Rash, Headache, Muscle pain, Nausea, Fatigue.

Prevention and control:

There is no cure or commercially available vaccine. However, it can be vector prevention and control combined with dengue control efforts in areas where vector of chikungunya is Ae. aegypti and Ae. Albopictus are prevalent.
Institute of Life Sciences (ILS): It is an autonomous institute of higher education for research aand education in life sciences. It is located in Bhubaneswar, Odisha. It functions under Department of Biotechnology, Union Ministry of Science & Technology.