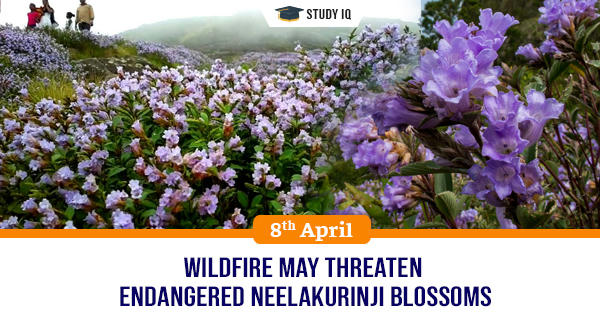 Wildfire may threaten endangered Neelakurinji blossoms
Date: 08 April 2019
Tags: Biodiversity
According to experts, recent large-scale manmade wildfires could have wiped out all seeds of the endemic Neelakurinji plant (Strobilanthes kunthiiana) endemic to Western Ghats. It had seen flowering blossom after gap of 12 years last year. This could threaten its next season flowering blossoms which gives ravishing purple colour to western side of Western Ghats. Its seeds are sensitive without hard cover and are unlikely to survive massive fire. There are many rare plants in the Western Ghats and massive wild fire could wipe out entire habitat. All these and insects endemic to the area might face extinction in a massive fire.
Neelakurinji plant
It is a tropical plant species native to Shola forests in Western Ghats. It is rarest of rare plant species that grows in (endemic to) Western Ghats and do not grow anywhere else in the world.

It is also found in Shevroys Hills in Eastern Ghats, Anamalai hills and Agali hills in Kerala and Sanduru hills in Karnataka.

It grows on hills slopes at altitude of 1300 to 2400 meters where there is no tree forest. Its height ranges from 30 to 60 cm

Its flowers are purple-blue in colour and blooms once in 12 years. These flowers have no smell or any medicinal value. It is because of these blom of these flowers, Nilgiri hills in southern tip of Western Ghats are called blue mountains.

It has been categorized as endangered species. In ancient Tamil literature (Sangam), these flowers symbolize love. Tamil Nadu's Paliyan tribal people use this flower bloom as reference to calculate their age.