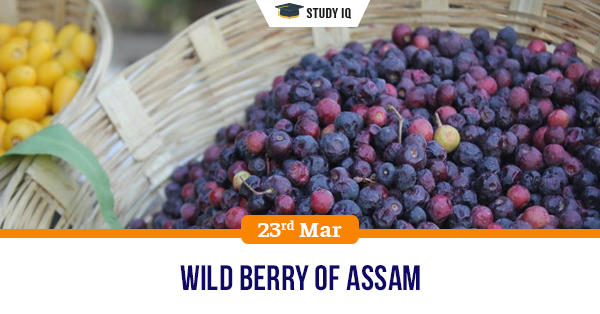 Wild berry of Assam
Date: 23 March 2020
Tags: Biodiversity
Issue
A multi-utility wild berry, whose thorny plant the British had used to build a barrier through India in the 1870s, has a unknown wilder cousin in Assam, a new study has revealed.
Details
Unlike the abundant Carissa carandas, better known as karonda in Hindi, kalakkai in Tamil, koromcha in Bengali and karja tenga in Assamese, the Carissa kopilii is threatened by the very river it is named after.

The Kopili hydroelectric project on the river and water turned acidic because of coal mining in Meghalaya upstream.

The "sun-loving" plant is distributed sparsely, rooted in rocky crevices along the Kopili riverbed at altitudes ranging from 85-600 metres above sea level.

Karja tenga has been used as a traditional herbal medicine for a number of ailments such as diarrhoea, anaemia, constipation, indigestion, skin infections and urinary disorders. The leaves have been used as fodder for silkworms while a paste of its pounded roots serves as a fly repellent.

The Carissa carandas was also among several thorny plants the British had grown 140 years ago for a 1,100-mile barrier apparently to enforce taxes and stop the smuggling of salt.

Carissa kopilii,

yielding white flowers from August-October and fruits from November-January, should have all the medicinal and utilitarian properties of its better-known cousin.