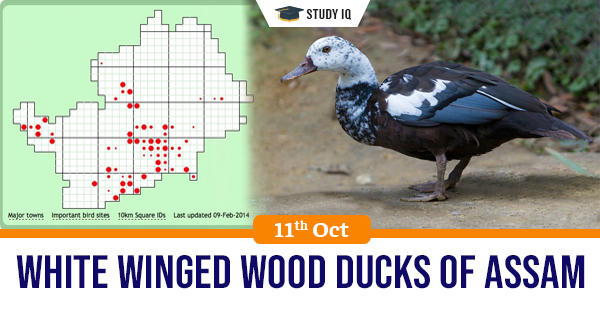 White winged wood ducks of Assam
Date: 11 October 2019
Tags: Biodiversity
Issue
Measures to protect the white winged duck of Assam are going on. The white winged duck is one of the rarest bird species to be sighted and their numbers are dwindling.
Background
The White Winged Wood Duck is no ordinary bird. Ornithologists consider sighting one to winning a lottery. These birds are currently found in Nameri National Park in Sonitpur district of Assam.
Details
The white winged wood duck is currently the state bird of Assam. But their sightings have become rarer over the years.

In the International Union for Conservation of Nature (IUCN) Red List, this duck has been categorised as endangered with its population showing a decreasing trend.

Earlier, the duck was extensively found in Assam and Arunachal Pradesh while also being sighted in Meghalaya, Manipur and Nagaland.

Presently, their population is limited only to certain pockets of Assam and Arunachal Pradesh.

Encroachment, deforestation and anthropogenic pressure have degraded their habitat.

The Assam Forest Department (AFD) and Wildlife Trust of India (WTI) with support from Oil and Natural Gas Corporation Limited (ONGC) have launched 'Project Deo Hanh' to develop a long-term conservation strategy to revive its population.