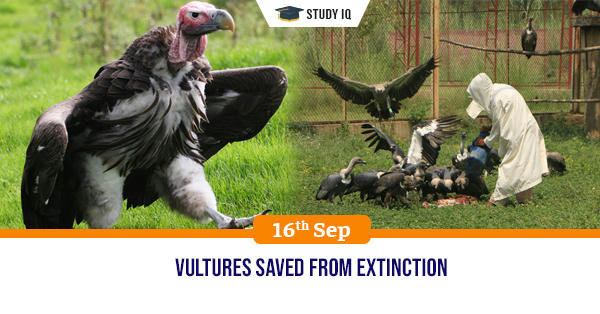 Vultures saved from extinction
Date: 16 September 2019
Tags: Biodiversity
Issue
To study the cause of deaths of vultures, a Vulture Care Centre (VCC) was set up at Pinjore, Haryana. The different species of vultures have been brought to this facility and this has contributed towards increasing vulture population significantly.
Background
In the late 1990s, when the population of the vultures in the country had begun to decline sharply, vultures were rescued from various regions such as Keoladeo National Park in Rajasthan, where vultures were dying at an alarming rate. The population of vultures have declined from 40 million in 1980's to few thousands in 2009 and require urgent addressal.
Details
Vulture Care Centre (VCC), is one of the leading vulture protection centre, which aims to increase population of the species.

At present there are 9 such facilties in India out of which 3 are administered by Bombay Natural History Society (BNHS).
Reasons for declining population
The major reason behind the vulture population getting nearly wiped out was the drug Diclofenac, found in the carcass of cattle the vultures fed on.

The drug, whose veterinary use was banned in 2008, was commonly administered to cattle to treat inflammation.
Current situation
Estimation of the vulture population in the wild is said to have stabilised. The surveys in 2015 has revealed that there are about 6,000 White-backed vultures, 12,000 Long-billed vultures and 1,000 Slender-billed vultures in the wild.
How can we preserve vulture population?
Emphasis on creating awareness and on creating safe zones for vultures in places where there is an existing vulture population.

Manage our carcass dumps and making sure that poisoned carcasses are not dumped for the vultures to feed on.
Bombay Natural History Society
The Bombay Natural History Society, founded on 15 September 1883, is one of the largest non-governmental organisations in India engaged in conservation and biodiversity research.

It supports many research efforts through grants and publishes the Journal of the Bombay Natural History Society.
Vulture species in India
White-rumped vulture (Gyps bengalensis)- Critically Endangered

Long-billed vulture (Gyps indicus)- Critically Endangered

Slender-billed vulture (Gyps tenuirostris)- Critically Endangered