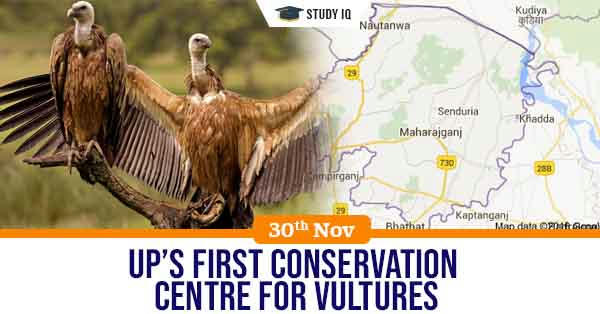 UP's first conservation centre for Vultures
Date: 30 November 2019
Tags: Biodiversity
Issue
The Uttar Pradesh government will set up state's first vulture conservation and breeding centre in farenda area of Maharajganj district.
Background
There has been a sharp decline in the population of vultures in the country which has come down from 40 million to 19,000 in a span of over three decades.
Details
The States' first vulture conservation and breeding centre of its kind will be set up on the lines of Jatayu Conservation Breeding Centre at Pinjore in Haryana, which is also the first in the country.

The new centre would be set up in association with Bombay Natural History Society, a wildlife research organization and It will be the first scientific assessment of vultures in the state to find out which species is most threatened and the locations where these natural scavengers are thriving.
Vultures in India
Nine species of vulture can be found living in India, but most are now in danger of extinction.

A major contributing factor in declining populations of vultures is believed to be widespread use of drugs such as diclofenac, once commonly used as a livestock anti-inflammatory drug. Use of diclofenac is still not banned in India.

The sudden collapse of the natural animal disposal system in India has had multiple consequences. The carcasses formerly eaten by vultures rot in village fields leading to contaminated drinking water.

The mammals also carry diseases from rotting carcasses such as rabies, anthrax, plague etc. and are indirectly responsible for thousands of human deaths.