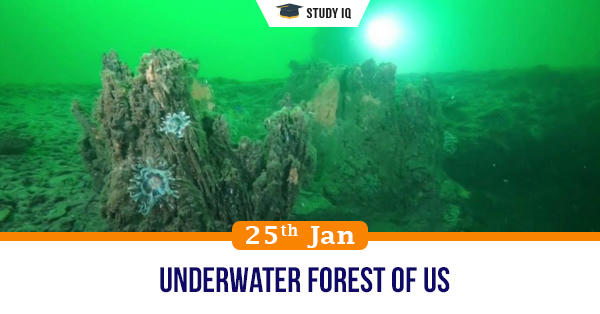 Underwater forest of US
Date: 25 January 2021
Tags: Biodiversity
Issue
One among many environmental petitions to US President Joe Biden is to save a unique forest off the coast of Alabama.
Background
The forest is unique because it is completely underwater and made up of the remains of cypress trees that grew in the ice age.
Details
The forest was submerged in the waters of the Gulf of Mexico as sea levels rose, and remained entombed in thick layers of sediment, mud and sand for millennia.

The sediments prevented oxygen from decomposing the stumps, barks and other remnants of the forest.

The forest was discovered only after Hurricane Ivan hit the Gulf Coast in 2004 and unleashed giant waves that removed the sediments.
Threats facing the forest
The site is at risk from salvage companies seeking to dig up the ancient logs and sell them. A furniture company had applied for a permit to excavate the forest site for the ancient, preserved timbers.

The Alabama Underwater Forest National Marine Sanctuary and Protection Act was introduced, which would allow tourists, fisherfolk and research groups to visit the site, but not enterprises interested in harvesting it for peat and timber, or carrying out other disruptive activities.
Importance of forest
The wood tissue forms the base of a food chain that can support a rich diversity of fish, invertebrates, and microorganisms in communities that resemble thriving coral reefs.

Future analyses on the collected samples will allow researchers to identify any analgesic and antimicrobial compounds and hydrolytic enzymes capable of degrading the components of wood.

The tree rings may be studied to understand the nature of climate during ice age and also effects of global warming.