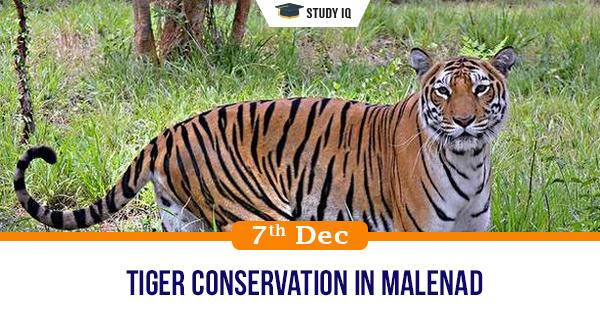 Tiger conservation in Malenad
Date: 07 December 2020
Tags: Biodiversity
Issue
The present estimates suggest the tiger population in Karnataka's Malenad region has increased from approximately 70 to 391 individuals in about 45 years.
Background
It details the problems that still need to be addressed if the tiger numbers have to triple. The researchers hope that these lessons can be applied in the management of wild tiger populations in other parts of the country and globally as well.
Details
The research team collected data on tiger ecology, predator–prey ecology, anthropogenic impacts, existing and emergent conflicts.

They conducted identification of individual tigers and leopards from their coat patterns using photos obtained through automated camera traps.

They applied new pattern matching software for this purpose and estimating big cat numbers from these data.

They also used line transects to estimate prey animal densities and occupancy modelling of track survey data to estimate animal species distributions for the first time in Asia.

Though Malenad has more than 21,000 square kilometres of potential habitat, reproducing tiger populations are found to survive in less than 30% of the area.

The team says that if tiger recovery efforts can be optimised in the future, the Malenad landscape can potentially support approximately 1,300 wild tigers.
Malenad
Malenadu or Malenad is a region in the state of Karnataka in India. Malenadu covers the western and eastern slopes of the Western Ghats or Sahyadri mountain range. It is situated between Coastal Karnataka and Bayaluseeme regions of Karnataka.

Malenadu Region in Karnataka is known for its abundant rainfall and rich existence of flora and fauna. Western Ghats act as the rain barrier during south-west monsoon season.