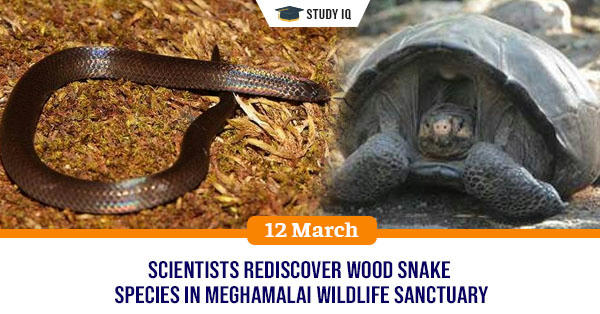 Scientists rediscover wood snake species in Meghamalai Wildlife Sanctuary
Date: 12 March 2019
Tags: Biodiversity
Scientists have rediscovered species of wood snake (Xylophis indicus) inMeghamalai Wildlife Sanctuary after 140 years. It was last seen in 1878 and was discovered in same region by British military officer and naturalist Colonel Richard Henry Beddome.
Wood snake
It endemic (found only) in Meghamalai forests and Periyar Tiger Reserve. Recently snake discovered was 235 mm long and uniformly dark brown. It was female specimen. Its rediscovery needs to be validated by both morphological and genetic data.
Significance: Rediscovery of snake indicated that the quality of the habitat was good. It will aid in both management and conservation of biodiversity in this region.
Megamalai Wildlife Sanctuary
It is located in Megamalai Wildlife Division near Megamalai Mountain Range situated in Western Ghats in Theni district.

It spreads over 636 square kilometers in Theni district in Tamil Nadu and borders Periyar Tiger Reserve in Kerala.

It is important buffer zone for tiger population in addition to being an important elephant corridor.

It is home to 10 % overall population of lion-tailed macaque and Nilgiri tahr (state animal of Tamil Nadu). Great Indian Hornbill is also found in this sanctuary.