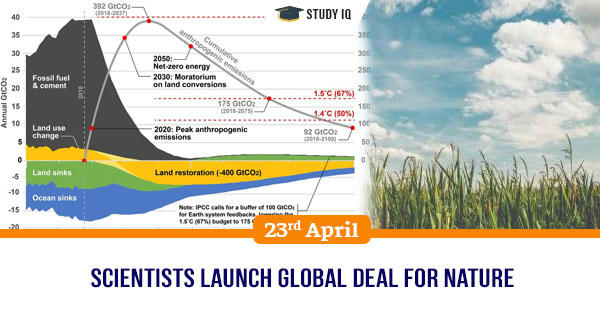 Scientists launch Global Deal for Nature
Date: 23 April 2019
Tags: Biodiversity
Scientists have outlined set of specific targets & milestones and guiding principles under Global Deal for Nature (GDN) to avoid the sixth mass extinction. It has been published in the journal Science Advances and scientists have laid out set of specific targets and milestones under GDN.
Global Deal for Nature (GDN)
It is time-bound, science-based plan to protect and save diversity abundance of life on Earth by 2030 and prevent another mass extinction event on the planet.

Its objective is to tackle dangerous climate change or climate breakdown and safeguard biodiversity in order to avoid any worsening of sixth mass extinction which is very first human-made biodiversity catastrophe.

It is driven by One Earth, an initiative of Leonardo DiCaprio Foundation that aims to gather support from international institutions, governments, and citizens of planet Earth to support ambitious conservation goals.

It sets out guiding principles, milestones and targets needed to avoid the extinction threats of a two degrees Celsius warming forecast.
Three overarching goals of GDN are
Protect biodiversity by conserving at least 30% of the Earth's surface by 2030.

Mitigate climate change by conserving natural carbon storehouses of Earth.

Reduce major threats (such as meeting 2050 world food demand by directing cropland expansion to degraded lands and reducing food wastage, curbing industrial fishing or illegal hunting and poaching, reducing use of plastics or ecologically damaging toxins).

The essence of implementing of GDN plan is to set up protected areas of land as natural ecosystems.
Key highlights of GDN
Around 30 % of the planet is to be fully protected under United Nations Convention on Biological Diversity by 2030.

Another 20 % of planet would be protected under GDN as Climate Stabilization Areas (CSAs). CSAs will meet the definition of "Other Effective Area-based Conservation Measures" (OECMs) adopted by Parties to Convention on Biological Diversity in 2018.

Governments should adopt it as companion pact alongside UN Paris Climate Agreement approved by nearly 200 countries in 2015.

It calls for societal investment for the first time and integrates and implements climate and nature deals on global scale to avoid human upheaval and biodiversity loss. Saving diversity and abundance of life on Earth may cost $100 billion a year.