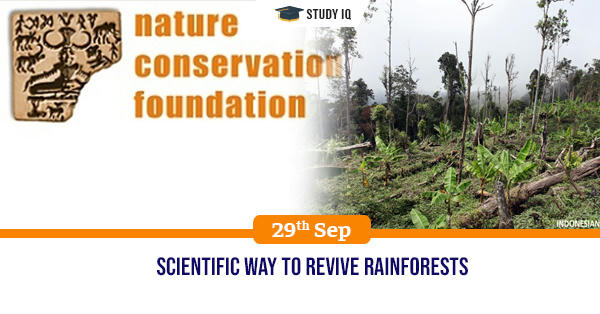 Scientific way to revive rainforests
Date: 29 September 2019
Tags: Biodiversity
Issue
A two-decade long study carried out by ecologists from Nature Conservation Foundation and University of Columbia finds that active restoration can promote recovery of tropical rainforest fragments with seven to 15 years of effort.
Background
Degraded forest areas studied in Anamalai Hills recovered significantly in terms of numbers of trees and species. The recovery included improvement in forest structure and composition as well as carbon storage.
Details
The study, which began in 2002, focused on rainforests fragments in Anamalai Hills, in the Western Ghats, and the ecological restoration involved clearing the chosen areas of invasive weeds and planting a diverse mix of native species.

Researchers planted more than 150 native rainforest tree species overall. Depending on size of the plot, native species carefully selected as appropriate for the site were planted.

The group studied 25 pairs of plots within degraded forest fragments. In one of the pair of plots, they carried out active restoration which included first removing non-native weeds and then planting saplings belonging to a variety of native tree species.

The other plot was left to regenerate naturally. Finally, the results of the effort on the two sets of plots were compared with 17 benchmark areas that were relatively free of human disturbance in a few decades.

The team found that the actively restored areas improved in comparison with the passively restored ones in a way that matched the benchmarks to a good percentage.

From seven to 15 years after restoration, these degraded forests recovered significantly in terms of numbers of trees, 49% in the number of tree species and 47% in the amount of carbon stored for a given area, compared to degraded forests left to recover naturally.

The best way to go about ecological restoration would be to identify critical areas that would benefit from restoration effort as this would include sites far away from larger, contiguous tracts of forests or those that would be critical as animal or plant movement corridors.
Anamalai Hills
The Anaimalai or Anamala Hills, also known as the Elephant Mountains, are the range of mountains that form the southern portion of the Western Ghats and span the border of Tamil Nadu and Kerala in Southern India.

Anamudi Peak (8,842 feet [2,695 metres]) lies at the extreme southwestern end of the range and is the highest peak in southern India.

Palakkad Gap divides the Western Ghats to the north.

The lower slopes of the hills now have coffee and tea plantations as well as teak forests of great economic value.

Dense monsoon forests including rosewood, sandalwood, teak, and sago palms cover most of the region, which helps the coffee and tea plantations and teak plantations grow.