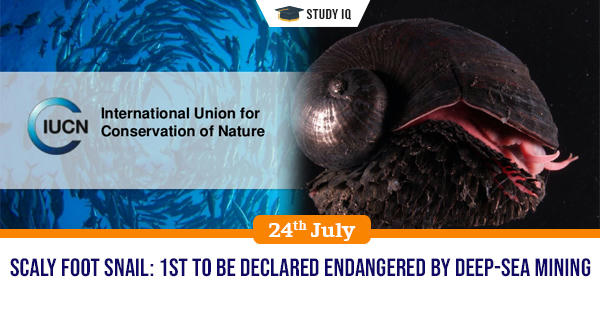 Scaly foot snail: 1st to be declared endangered by deep-sea mining
Date: 24 July 2019
Tags: Biodiversity
International Union for Conservation of Nature (IUCN) recently added ocean-floor-dwelling Scaly- Foot Snail (Chrysomallon squamiferum) as endangered species in its updated Red List (IUCN Red List or Red Data List). This makes Scaly- Foot Snail the first species to be officially declared threatened due to deep-sea mining.
About Scaly- Foot Snail
It is a species of deep-sea hydrothermal-vent snail, a marine gastropod mollusc in the family Peltospiridae.

Its scientific name is Chrysomallon squamiferum. It is found 2,400-2,900 metres deep in ocean.

Habitat:

It is only found at three hydrothermal vents on deep-ocean ridges in Indian Ocean, east of Madagascar at depths of up to 2,900 metres.

Threat:

It is facing threat due its habitat destruction by deepsea mining. Two of its habituated hydrothermal vents are currently under mining exploration licences.

Significance of IUCN conservation status:

It will help to protect them from the surging interest in seafloor mining in the oceans. It will dissuade investors from funding deep-sea mining projects that could harm the species.