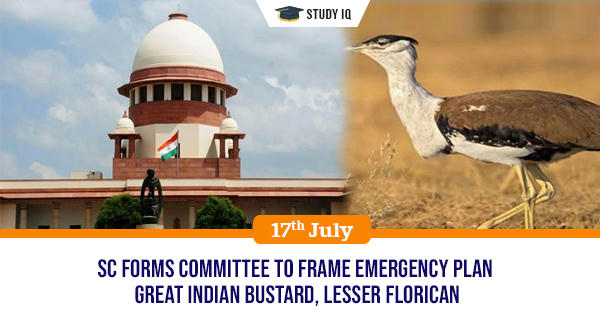 SC forms committee to frame emergency plan Great Indian Bustard, Lesser Florican
Date: 17 July 2019
Tags: Biodiversity
Supreme Court by taking serious note of alarming extinction of two Indian birds -- Great Indian Bustard and the Lesser Florican has constituted high powered committee to urgently frame and implement an emergency response plan for the protection of these species. It also sought responses from the Centre and state governments, where these two species of birds are prominently found.
Composition of committee: Director of Bombay Natural History Society (BNHS); Dr Asad R Rahmani former Director of BNHS and member of governing body of Wetlands International South Asia and Dr Dhananjai Mohan, Chief Conservator of Forests of Uttarakhand.
Background
The committee was formed by apex court on plea of wildlife activists. The plea has contended that over the last 50 years population of Great Indian Bustard has recorded decline of over 82%,, falling from an estimated 1260 in 1969, to 100-150 in 2018. Whereas, population of Lesser Florican has seen a sharp decline of 80% over past few decades.
These two critically endangered bird species are facing threats of mortality by collision with infrastructure, particularly powerlines and wind turbines, depletion of grasslands, hunting, development of mines and human habitation in and around their habitats and ingestion of pesticides. Both birds are protected under Wild Life (Protection) Act, 1972 but despite being accorded highest level of protection under national law, these birds are facing threat of imminent extinction.
About Lesser florican
It is also known as likh or kharmore. Its scientific name is Sypheotides indicus and is only member of the genus Sypheotides. It is the smallest in bustard family, barely weighing 500-750 gms. It is endemic to India. It has been listed endangered in IUCN Red List.
About Great Indian Bustard
Its scientific name is Ardeotis nigriceps. It is large bird with horizontal body and long bare legs, giving it ostrich like appearance.
It is among heaviest of the flying birds. Its habitat consists of large expanses of dry grassland and scrub and is often found associated in same habitat as blackbuck.
Once it was common in dry plains of Indian subcontinent, now it only found in Rajasthan, Gujarat, Maharashtra, Karnataka and Andhra Pradesh. It is facing threat of extinction due to hunting and loss of its habitat. It is the State bird of Rajasthan
Protection Status: It is critically endangered species listed in International Union for conservation of Nature's (IUCN) Red List. It is listed in Schedule I of the Indian Wildlife (Protection)Act, 1972 and in the CMS Convention and in Appendix I of CITES.