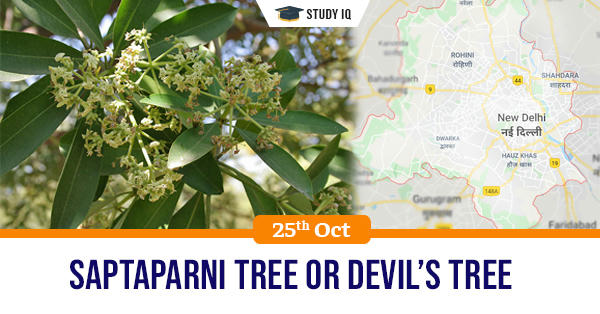 Saptaparni tree or Devil's tree
Date: 25 October 2019
Tags: Biodiversity
Issue
Saptaparni tree flowers are synonymous with December weather, with large number of tree being found in the Capital region of Delhi.
Background
Saptaparni is a medium-sized evergreen tree from the very moist forests of the Himalayas.
Details
The name comes from two Sanskrit words, Sapta meaning seven, and parni meaning leaves.

As the name suggests, the leaves, most often, are found in bunches of seven around the stem.

They are blunt, glossy, and create starry symmetries. The leaves remain throughout the year with new flushes standing out against older leaves in March and April and again during the rainy season.

The tree's fruit is bean-like and appears in pairs.

The tree's natural range shows a broad belt in the sub-Himalayan tract east of the Yamuna and is also found in the moist forests of the Western and Eastern Ghats in peninsular India.

In addition to this it also grows naturally from Sri Lanka to Myanmar and South China, and from Malay Peninsula to Australia.

It is best suited to deep, moist soil and its tolerance to drier conditions.

The bark is known as ditabark, used by Indians as traditional medicine to treat diarrhoea, dysentery, asthma, and a few types of fevers. It has also been used as an aphrodisiac.

The scientific name is Alstonia scholaris. The genus is named after professor C. Alston, a famous botanist of Edinburgh.

Students' blackboards, writing tables and slates are made from the bark of the tree. Hence, the other name for the tree is the Blackboard Tree and also includes the word scholaris in its scientific name.

The Saptaparni is of great cultural significance in the intellectual circle, as traditionally its leaves were awarded to scholars and teachers during convocation ceremonies by the Visva Bharati University, started by Rabindranath Tagore.