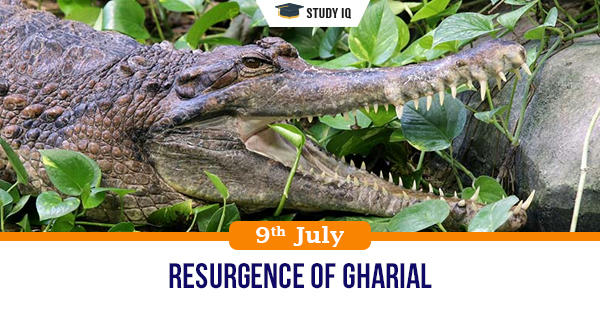 Resurgence of Gharial
Date: 09 July 2020
Tags: Biodiversity
Issue
Various conservation efforts from government and other bodies have ensured that the population of gharial bounced back from the brink of extinction.
Background
Gharials are members of the crocodile family, historically found in various parts of the Indian sub-continent.
Details
The population of gharials has witnessed an upward spiral in the Gandak that now houses the second largest population in the country, after the river Chambal (National Chambal Sanctuary) stretch that covers Madhya Pradesh, Rajasthan, and Uttar Pradesh.

Based on three surveys done by Wildlife Trust of India between 2017 and 2018, around 211 gharials of different age-groups are present in the river as compared to merely 15 recorded in 2010.

The findings have brought cheer to conservationists as the gharial is a critically endangered species. Endemic to the Indian subcontinent, the gharial is the most aquatic of all extant crocodilians and resides inflowing rivers with deep pools, high sandbanks, and good fish stocks.

The population has registered a 98% decline between 1946 and 2006; the adult population nosedived, with a 58% reduction across its range in just nine years, starting from 1997.

The reason for the decline has been attributed to over-hunting for skins and trophies, egg collection for consumption, killing for indigenous medicine, and excessive and irreversible loss of the species habitat.

Among the prominent challenges for their survival is the Gandak Barrage, as the release of excess water often creates problems for gharials.

The gharial was widespread across the Indian subcontinent: it was common in the Indus river in Pakistan, Gandak river in Nepal, Jamuna river in Uttar Pradesh, and Kosi river in Bihar.

It was also found in Burma (now Myanmar), Bhutan, and Bangladesh. In India, the gharials are now found mainly in Chambal, Girwa, Ghagra, and Gandak river basins.