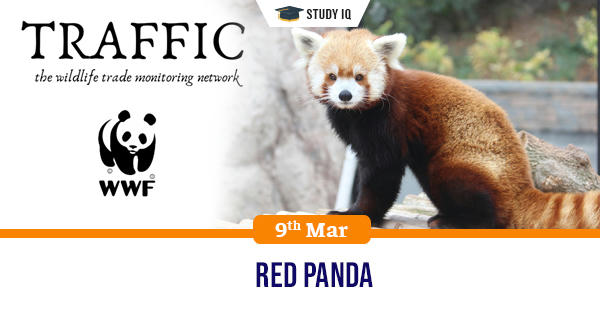 Red Panda
Date: 09 March 2020
Tags: Biodiversity
Issue
The iconic and endangered Red Panda (ailurus fulgens) has fewer hunters because the younger generations of people across its Himalayan habitat are losing interest in animal products, a new study by wildlife trade monitoring network TRAFFIC has found. However, the panda is falling to traps laid for other animals.
Background
The news is both good and bad for the red panda, whose survival is crucial for the eastern and north-eastern Himalayan subalpine conifer forests and the eastern Himalayan broadleaf forests.
Details
The only living member of the genus Ailurus, the Red Panda is listed as 'endangered' on the IUCN Red List of threatened species.

The animal has been hunted for meat and fur, besides illegal capture for the pet trade. An estimated 14,500 animals are left in the wild across Nepal, Bhutan, India, China and Myanmar.

The report has looked at a ten-year period from July 2010 to June 2019, and analysed poaching and illegal trade of the species. In addition to looking at seizures, the researchers carried out market surveys, surveys of e-commerce websites and village-level surveys, where they spoke to hundreds of people in the Indian habitat of the Red Panda.

About 5,000-6,000 red pandas are estimated to be present in four Indian states – Arunachal Pradesh, Meghalaya, Sikkim and West Bengal. This is the second-largest population after China (6,000-7,000).

Red pandas have been reported from 11 districts of Arunachal Pradesh, which is presumed to hold the largest red panda population in the country.

The researchers found that neither India nor Bhutan had reported any incidences of poaching or illegal trade in Red Pandas in the study period.

This may indicate that traditional demand for such products has reduced over time and might be indicative of the success of awareness campaigns undertaken in the areas.

The report also recommended trans-boundary law enforcement co-operation through the use of multi-government platforms like SAWEN (South Asia Wildlife Enforcement Network).
TRAFFIC
TRAFFIC, the Wildlife Trade Monitoring Network, is the leading non-governmental organisation working globally on the trade of wild animals and plants in the context of both biodiversity and sustainable development.

It was founded in 1976 as a strategic alliance of the World Wide Fund for Nature (WWF) and the International Union for the Conservation of Nature (IUCN).

The organisation's aim is to 'ensure that trade in wild plants and animals is not a threat to the conservation of nature'. It states that through research, analysis, guidance and influence, it promotes sustainable wildlife trade (the green stream work) and combats wildlife crime and trafficking (the red stream work).

Founded in 1979, TRAFFIC's headquarters are located in Cambridge, United Kingdom.
SAWEN
SAWEN, a Regional network is comprised of eight countries in South Asia: Afghanistan, Bangladesh, Bhutan, India, Maldives, Nepal, Pakistan and Sri Lanka.

It aims at working as a strong regional inter¬governmental body for combating wildlife crime by attempting common goals and approaches for combating illegal trade in the region.
Objectives
To take initiatives for bringing harmonization and standardization in laws and policies of member countries concerning conservation of fauna and flora;

To document the trend of poaching and illegal trade, and related threats to the natural biodiversity within and across countries in the region.

To strengthen institutional responses to combat wildlife crime by promoting research and information sharing, training and capacity building, technical support, sharing experiences and outreach;

To encourage member countries to prepare and implement their National Action Plans in curbing wildlife crime and to collaborate towards effective implementation.