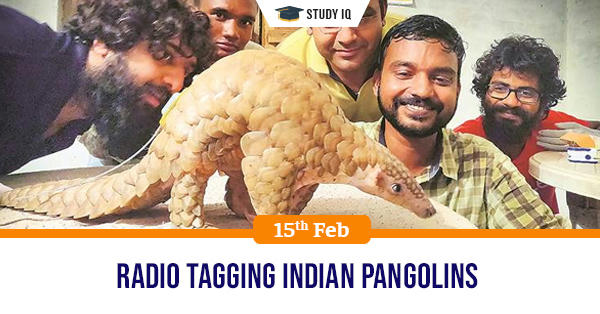 Radio tagging Indian pangolins
Date: 15 February 2020
Tags: Biodiversity
Issue
Scientists have, for the first time, radio-tagged the Indian pangolin, an endangered animal, that is rarely sighted in forests.
Background
Researchers say tagging the animal will help understand the habits of the reclusive, nocturnal animal.
Details
Pangolins are among the most trafficked wildlife species in the world. The International Union for the Conservation of Nature says these toothless animals have seen a rapid reduction in population. The projected population declines range from 50% to 80 % across the genus.

Out of the eight species of pangolin, the Indian Pangolin and the Chinese Pangolin are found in India. Both these species are listed under Schedule I Part I of the Wildlife (Protection) Act, 1972.

World Pangolin Day, celebrated on the third Saturday in February, is an international attempt to raise awareness of pangolins and bring together stakeholders to help protect these unique species from extinction.
Threats faced by Pangolins
The primary threat to most pangolin species is illegal hunting and poaching for local use and illicit international trade.

This trade mainly involves pangolin scales and meat, which are primarily trafficked to East and Southeast Asia, and to a lesser extent other body parts.

Other threats include habitat loss and degradation, which places additional pressure on pangolin populations.