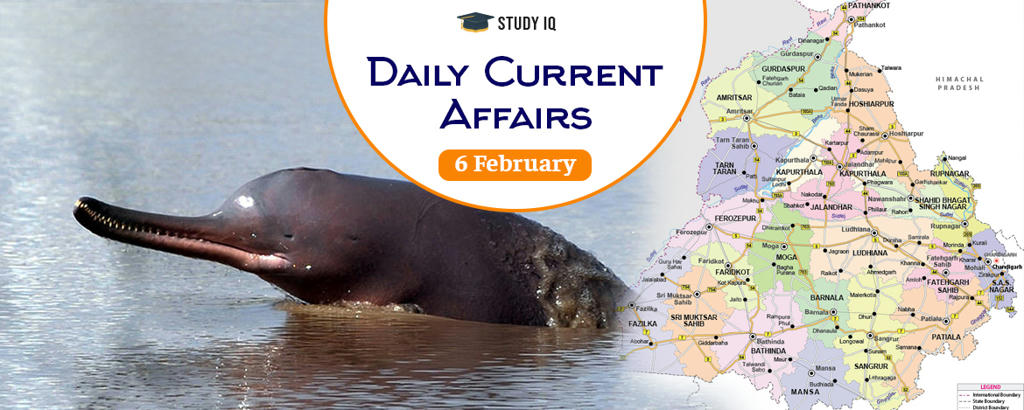 Punjab declares Indus River Dolphin as State aquatic animal
Date: 06 February 2019
Tags: Biodiversity
Punjab Government has declared Indus River Dolphins as its State aquatic animal. This decision was taken in the Punjab State Wildlife Board presided over by Chief Minister Capt Amarinder Singh. At present, Black Buck is official state animal of Punjab and Baaj, also known as northern goshawk (accipiter gentilis) is its official state bird.
Significance
This coveted distinction Indus River Dolphin to will give much needed boost to conserve this endangered species and one of world's rarest mammals.

With this, State Wildlife Department will also initiate further steps to safeguard this species facing threat of extinction in Punjab.
Note: Ganges river dolphin is National Aquatic Animal of India and is official animal of Guwahati city of Assam.
Indus River Dolphin
It is one of only four freshwater river dolphin species and subspecies (which also includes Ganges River dolphin) in the world. It is found only in India and Pakistan in Beas river, tributary of Indus.

It is functionally blind and relies on echolocation to navigate, communicate and hunt prey in muddy river water.
Habitat: Traditionally, it was found in mainstream Indus and its five tributaries Beas, Ravi, Sutlej, Chenab and Jhelum flowing through India and Pakistan.
But now its range has been reduced by almost 80% compared to late 1800s and Indian population is limited only to Beas River. It has extinct in river Sutlej mainly because of river pollution.
Threats: Hunting for meat, entanglement in fishing nets, poisoning of water supply of river from industrial and agricultural chemicals.

They are facing most significant threat from building of dams and barrages along course of their habitable rivers. It causing segregation of populations and narrowed its gene pool affecting its genetic diversity.

Protection Status: It is a key indicator species of river's health. Its presence is considered as river is healthy. It listed as endangered on IUCN's Red List of Threatened Species. It is placed in Schedule I of Wildlife Protection Act, 1972. It is national mammal of Pakistan.
Present Population: Only 1,816 Indus dolphins are reported to exist presently in lower parts of Indus River. In first organised census conducted in May 2018 by Punjab Forest Department and WWF-India has estimated population of Indus River Dolphins to about five to 11 dolphins living in small 185-km stretch of Beas that flows through Punjab.