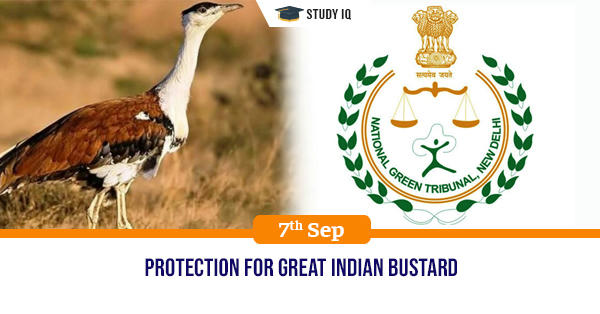 Protection for Great Indian Bustard
Date: 07 September 2019
Tags: Biodiversity
Issue
Noting the high mortality rate of the Great Indian Bustard, the National Green Tribunal has directed the Centre to prepare a time-bound action plan within two months for protection of the birds.
Background
The great Indian bustard, that narrowly missed being christened India's national bird, is now teetering on its last legs.
Several threats are decimating bustard populations. India, effectively the only home of the bustards, now harbours less than 150 individuals in five States
Details
The Great Indian bustard is one of the important flagship species of Indian grasslands ecosystem and their sustainance is very important for maintaining balance.
Reasons for their decline
The untamed, arid grasslands that bustards thrive in are categorised as 'wastelands', like most grassland habitats in India. The push to make these areas more 'productive' has seen an increase in water availability in these parts, resulting in the spreading of agricultural land into bustard habitats.

Researchers found that though they are predominantly insect-eaters. Bustardsfeed on arugula plants and eat cultivated Bengal gram and Ziziphus or ber berries.The decline in the production of these crops have affected their food habits.

These wide-ranging birds disperse to agricultural landscapes near Gujarat's Kachchh during the non-breeding season. Intensification of agriculture, including more pesticides, barbed-wire fences and new crops could endanger the birds' survival in this landscape.

Remains of their grassland homes are now sites for renewable power projects. With new wind turbines, more power lines are constructed to take the 'green' energy to grids and homes. These wires are dangerous for these birds.
Protection Measures
A landscape-level approach can incentivise people to take up less intensive agriculture.

Bustard conservation breeding centre in states like Rajasthan will help in conserving their population and keep them away from extinction.