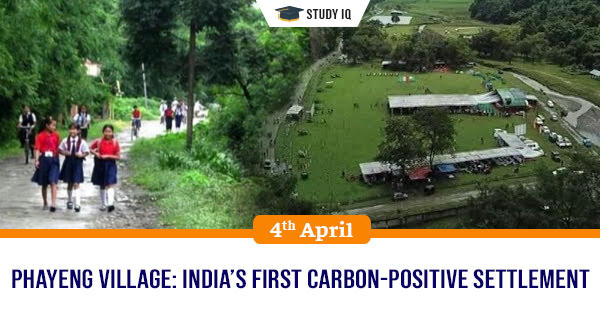 Phayeng Village: India's first carbon-positive settlement
Date: 04 April 2019
Tags: Biodiversity
Phayeng Village in in Imphal West district of Manipur has becomes India's first carbon-positive settlement. A village is given carbon-positive tag if it sequesters more carbon than it emits, slowing accumulation of greenhouse gases (GHGs) and mitigating effects of climate change.
Phayeng Village
It is scheduled caste village of the Chakpa community. It is surrounded by three densely community-managed forested hillocks and stream flowing through it.

It was resurrected from dry and denuded village it was in 1970s and 80s by its residents under carbon-positive village project and funding under National Adaptation Fund for Climate Change (NAFCC).

Its conservation efforts are mainly linked to belief that the forest is sacred grove, but idea has changed over the years.

Its villagers have completely banned hunting. Besides, there is restriction on outsiders' entry into forest without permission.
National Adaptation Fund for Climate Change (NAFCC)
It is Central Sector Scheme launched un 2015-16 to support concrete adaptation activities which mitigate the adverse effects of climate change.

It provides 100% funding to activities under it which are implemented in project mode. National Bank for Agriculture and Rural Development (NABARD) nodal implementation agency for these projects.

It provides assistance to states/UTs that are particularly vulnerable to adverse effects of climate change in meeting the cost of adaptation.

It aims to fulfill objectives of National Action Plan on Climate Change (NAPCC) and operationalize State Action Plans on Climate Change (SAPCCs).