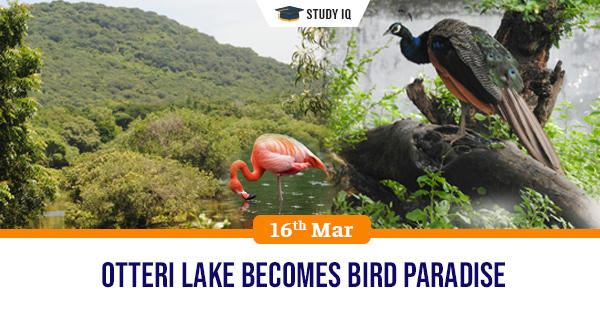 Otteri lake becomes bird paradise
Date: 16 March 2020
Tags: Biodiversity
Issue
Otteri lake inside Arignar Anna Zoological Park in Chennai is turning out to be a bird watcher's paradise.
Background
It has been a remarkable turnaround for the waterbody that had dried up totally until it was restored about three months ago to be teeming with nearly 21 species of birds now.
Details
According to a birds census in March, there were 3,481 birds of 21 different species. Open billed storks, night herons, little egrets, little cormorants, darters, white breasted kingfishers and cattle egrets are some of thebirds that visits the lake now.
Bombay Natural History Society
The Bombay Natural History Society is one of the largest non-governmental organisations in India engaged in conservation and biodiversity research.
It supports many research efforts through grants and publishes the Journal of the Bombay Natural History Society.
Birdlife International
BirdLife International is a global partnership of conservation organisations that strives to conserve birds, their habitats, and global biodiversity, working with people towards sustainability in the use of natural resources.

BirdLife International's priorities include preventing extinction of bird species, identifying and safeguarding important sites for birds, maintaining and restoring key bird habitats, and empowering conservationists worldwide.