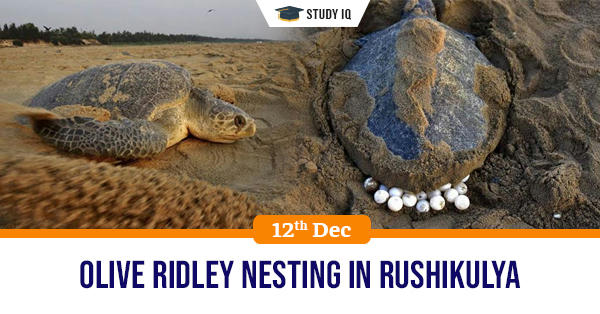 Olive Ridley nesting in Rushikulya
Date: 12 December 2019
Tags: Biodiversity
Issue
An olive ridley turtle has laid 149 eggs on a mass nesting beach at the Rushikulya rookery coast in Odisha, marking the start of the mass nesting season.
Background
The Forest Department has already set up with 11 artificial hatcheries on the beach as sporadic nesting is expected to rise. The olive ridleys arrive in batches to lay their eggs on the coast.
Details
The Rushikulya rookery coast is a major mass nesting site for the olive ridleys on the Indian coast. Despite a large congregation for the mass mating season, olive ridleys had not appeared for the mass nesting period on this coast in 2019.

The mass-nesting event when thousands of turtles come ashore is called as 'Arribada'.
Olive Ridley turtles
The olive ridley sea turtle, also known as the Pacific ridley sea turtle, are the second smallest and most abundant of all sea turtles found in the world; this species of sea turtle is found in warm and tropical waters, primarily in the Pacific and Indian Oceans.

Their current protection status is vulnerable.
Gahirmatha
In the Indian Ocean, the majority of olive ridleys nest in two or three large groups near Gahirmatha in Odisha.

The coast of Odisha in India is the largest mass nesting site for the olive ridley.