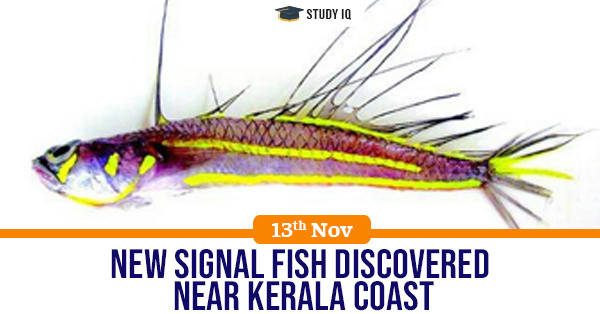 New signal fish discovered near Kerala coast
Date: 13 November 2019
Tags: Biodiversity
Issue
Scientists from the University of Kerala and the Ocean Science Foundation, USA have reported the discovery of the new species of signal fish, the first one of the genus recorded in Indian waters.
Background
Signal fishes are tiny and fragile and are often found in waters below 50 m and according to the authors, is one of the distinctly larger species of signal fish.
Details
The species named Pteropsaron indicum was collected by trawlers at a depth of 70 metres during a marine biodiversity survey.

Signal fishes are a poorly studied group of benthic species found in deep sandy habitats, usually close to coral reefs.

They are known to flip up their extended dorsal fins to signal each other. The discovery of the species indicates the presence of patchy corals off the Kerala coast and therefore with a lot of conservation value.
Signal Fish
The discovered species is the world's largest signal fish. It has thick yellow lines shining on the sides of the body. Small yellow marks can be seen on the sides of the head. They also have long spines on their dorsal fins.
They flap their long fins as a sign of dominating their territory and attracting their mate. It is because of these characteristics they are called signal fish.