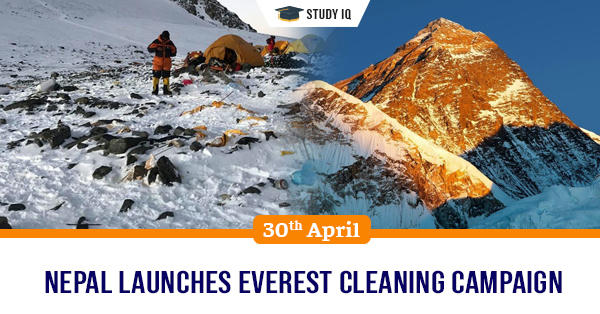 Nepal Launches Everest Cleaning Campaign
Date: 30 April 2019
Tags: Biodiversity
Government of Nepal has launched 45-day 'Everest Cleaning Campaign', aimed at bringing back tonnes of trash from Mt. Everest, world's highest peak (8848 metres), left back by climbers. The goal of this campaign is to send the message to keep this mountain pollution free.
This is for first time Nepal has launched such large scale campaign to clean up the world's highest peak. So far total of 3,000 kilogrammes of solid waste has been collected from Mt Everest since launch of the campaign on April 14, 2019.
Everest Cleaning Campaign
It is led by Solukhumbu district's Khumbu Pasanglhamu Rural Municipality. It was launched on April 14 (Nepali New Year). It will conclude on May 29, 2019.

The month-and-a-half clean-up campaign aims to collect nearly 10,000 kilogrammes of garbage from Mt Everest. It is supported by number of governmental and non-governmental agencies.

The collected waste will be showcased in Namche town and later in Nepal's capital Kathmandu on World Environment Day (June 5) to send message to keep this mountain pollution free. After that it will finally be sent out for recycling.

Note:

May 29 is marked every year to commemorate the first summit of Everest by Edmund Hillary and Tenzing Norgay in 1953.
Garbage Problem
Every year, hundreds of climbers, Sherpas and high altitude porters make their way to Mt Everest (Sagarmatha in Nepali), highest peak in the world. During this course, they leave behind tonnes of both biodegradable and non-biodegradable waste - including kitchen waste, bottles, empty oxygen canisters and faecal matter - on the highest peak. This has led environmentalists to dub Mt Everest as "world's highest garbage dump". There were also attempts in past to clean up Mt. Everest, including 2014 Nepal Government's mandated provision of making it mandatory for every climber to come down peak with at least 8 kgs of garbage i.e. the amount of trash estimated to be produced by one climber.