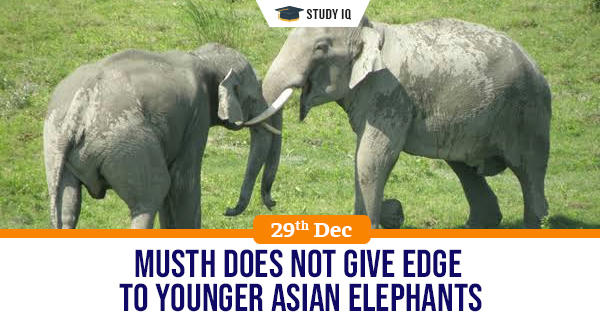 Musth does not give edge to younger Asian elephants
Date: 29 December 2019
Tags: Biodiversity
Issue
A seven-year study of Asian elephants from Nagarahole-Bandipur has yielded interesting patterns of male elephant behaviour when in musth.
Background
Hormonal levels give musth males high energy and aggression levels and this state is often correlated with a propensity to mate.
Details
When an elephant is in a musth state, its urine shows increased testosterone levels. Also, temporin, a thick secretion, flows from the temporal ducts situated midway between their eyes and ears.

They hardly feed during musth and are more focussed on finding fertile females. Males enter into musth (show signs of musth) when there are in good body condition, and lose body condition over the time they are in musth because they are hardly feeding.

Therefore, researchers have been interested in finding out how exactly musth helps as a reproductive strategy since it is a very expensive strategy.

One way in which musth might give an advantage is that it allows for males to have greater energy and to rove (roam) over larger areas, which then gives males the opportunity to sample more females than nonmusth males.

The key findings of the group are that young (15-30 years old) males in musth did not have an advantage over older (over 30 years) non-musth males in terms of access to females.

Old musth males had an advantage over old non-musth males, and also showed a roving strategy which allows for searching for multiple females.

Therefore, musth seems to be a roving strategy that is primarily advantageous to old males and not to young males.

Female elephants have a four-month oestrous cycle in which they are ovulating for three or four days only. Therefore, females are a rare resource for males seeking to produce offspring and thus male mating strategies become very important in such a species.

The research also found high degree of competition exists among males to select and mate with the few available females. The young males probably have to wait it out and invest in growth rather than reproduction while the competition is mostly among the old males.
Asian elephants
The Asian elephant (Elephas maximus), also called Asiatic elephant, is the only living species of the genus Elephas and is distributed throughout the Indian subcontinent and Southeast Asia, from India in the west, Nepal in the north, Sumatra in the south, and to Borneo in the east. Since 1986, the Asian elephant has been listed as Endangered on the IUCN Red List, as the population has declined by at least 50 percent over the last three generations.
Elephants reserves in India
Mayurjharna (West Bengal), Singhbhum (Jharkhand), Mayurbhanj (Odisha), Mahanadi (Odisha),Sambalpur (Odisha), Badalkhol-Tamorpingla (Chattisgarh), Kameng (Arunachal Pradesh),Sonitpur (Assam), Dihing-Patkai (Assam),South Arunachal (Arunachal Pradesh),Kaziranga-Karbi Anglong (Assam),Dhansiri-Lungding (Assam),Intanki (Nagaland),Chirang-Ripu (Assam),Eastern Dooars (West Bengal),Garo Hills (Meghalaya),Dandeli (Karnataka),Mysore (Karnataka),Wayanad (Kerala), Nilgiri (Tamil Nadu), Rayala (Andhra Pradesh),Nilambur (Kerala),Comibatore (Tamil Nadu),Anamalai (Tamil Nadu),Anamudi (Kerala),Periyar (Kerala),Srivilliputhur (Tamil Nadu),Shivalik (Uttarakhand), Uttar Pradesh reserve (Uttar Pradesh).
Singhpan Elephant reserve
Singphan Elephant Reserve is the 30th Elephant Reserve in the country and is situated in the state of Nagaland, which has an elephant population of 446, as per recent census report (2017) conducted in the state.