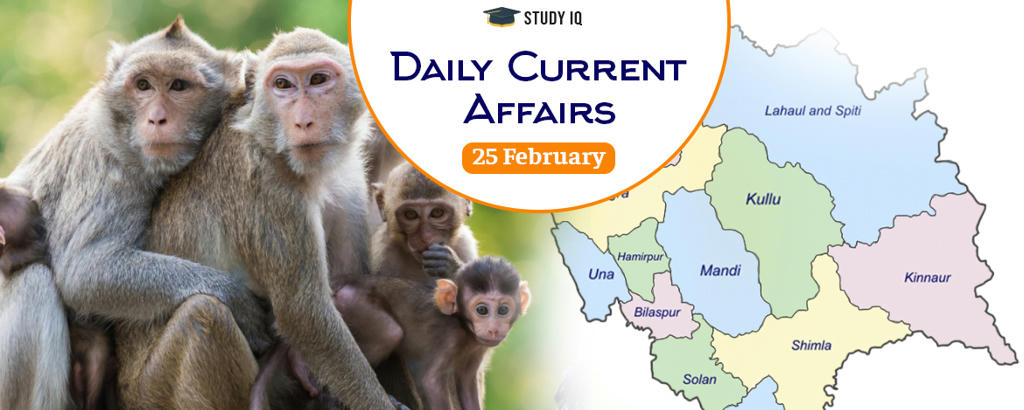 Monkey declared Vermin in Himachal Pradesh
Date: 25 February 2019
Tags: Biodiversity, Forests
Union Ministry of Environment, Forest and Climate Change (MoEFCC) has declared Monkey (Rhesus macaque) as Vermin for period of one year in 11 districts of Himachal Pradesh. It comes after request of state government to centre as monkeys were adversely affecting crops and causing harm to humans in the state.
This is second time monkey has been declared as vermin in Himachal Pradesh. For first time it was declared vermin in 2016 in 38 tehsils and sub-tehsils of 10 districts of state. The period of this notification was extended for one year in December 2017.
What this decision means?
It allows state forest authorities and people to carry out an extermination (hunting/poaching) of monkeys outside reserve forest on large scale.

To do so, they will no longer require permission from forest/wildlife officials and thus their actions cannot attract penal provisions of Wildlife Protection Act (WPA), 1972.

It will help to balance local population of monkeys to mitigate damage to human life, crops and other properties in state for ensuring conservation of wildlife in forests.
Vermin
Vermin means wild animals and birds which are harmful to crops, farm animals or which carry disease.

Section 62 of Wildlife Protection Act, 1972 empowers Centre (Environment Ministry) to declare through notification wild animals as vermin for selective slaughter on request of State Government

Under it, wild animal can be declared as vermin if they have become dangerous to human life or property, including standing crops on any land and become disabled or diseased as to be beyond recovery.
Central Government through notification declares any wild animal other than those specified in Schedule I of WPA vermin for any area for specific period by listing it in Schedule V.

For such period of notification, wild animal placed in Schedule V of WPA is deprived of any protection under legal provision of WPA.

It also provides reprieve for those who kill this vermin animal from jail terms and fines that hunting these animals typically invite under WPA.

The hunted vermin wildlife is declared as government property and Government imposes restrictions on disposal of carcasses of these animals.