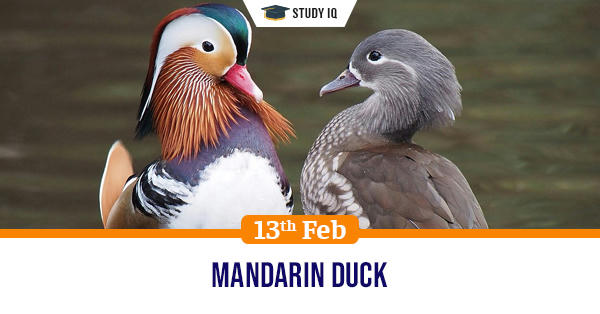 Mandarin duck
Date: 13 February 2021
Tags: Biodiversity
Issue
The spectacular and rare Mandarin duck has been spotted by a bird watcher and enthusiast for the first time in Assam's Tinsukia district.
Background
The bird was last sighted in this part of Assam more than a century ago, in 1902. It is one of the rarest birds in the world.
Details
The bird was also spotted by a team from the Wildlife Trust of India (WTI), which was present in the area for a survey of the White-winged wood duck.

The Mandarin duck (Aix galericulata) was first identified by Swedish botanist, physician, and zoologist Carl Linnaeus in 1758. It is considered the most beautiful duck in the world.

The migratory duck breeds in Russia, Korea, Japan and north-eastern parts of China. It now has established populations in Western Europe and America too.

The duck rarely visits India as it does not fall in its usual migratory route. There are only a handful of recorded sightings here.

It was recorded in 1902 in Dibru river in the Rongagora area in Tinsukia. More recently, it was sighted in Manipur's Loktak Lake in 2013, and in Saatvoini Beel in Manas National Park and Tiger Reserve in 2014.

The duck is not a globally threatened species but spotting one is always considered significant because they only make rare appearances.
Manguri beel wetlands
The Maguri Motapung wetland is an Important Bird Area as declared by the Bombay Natural History Society and is located close to the Dibru Saikhowa National Park in Upper Assam.

The wetland has grassland adjacent to it. The entire ecosystem (grassland and wetland) is very important as it is home to at least 304 bird species, including a number of endemic ones like Black-breasted parrotbill and Marsh babbler.