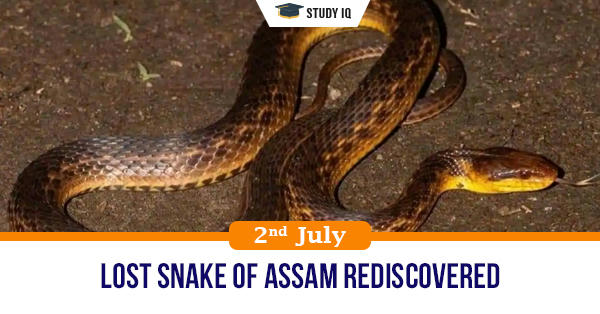 Lost snake of Assam rediscovered
Date: 02 July 2020
Tags: Biodiversity
Issue
More than a century after it was first seen, the Assam keelback, a snake species endemic to the region, was rediscovered in 2018 by a team from Wildlife Institute of India (WII) near a reserve forest on the Assam-Arunachal Pradesh border.
Background
The snake was discovered 129 years ago by Samuel Edward Peal, a British tea planter based in Upper Assam. The planter collected two specimens of the small brown non-venomous snake from the evergreen forests and deposited them in the museum.
Details
The species has never been reported since then — nobody knew where it lived, how it looked, and everyone considered it a lost species.

In 2018, five scientists retraced the route of the Abor Expedition — a punitive expedition in the North-Eastern Frontier Agency (which corresponds to parts of present-day Assam and Arunachal Pradesh) in order to explore the deeper forests.

The snake was found while researchers were surveying the Poba Reserve Forest (RF) located at the interstate boundary of Assam and Arunachal Pradesh. The snake was collected from the Arunachal part of Poba.

The snake's 'lost' status has a lot to do with the habitat it occupies — in this case, a lowland evergreen forest. These forests have been selectively degraded during the last 100 years.

Tea plantations have been made, selective logging has taken place, and many other activities such as oil exploration and coal mining has resulted in their destruction.

When the British had discovered the snake, they had classified it as belonging to the larger keelback species. But through DNA studies, it was found that this particular keelback does not belong to the generalised keelback snake of India

It has rather a unique genus (Herpetoreas) belonging to a smaller group of four species, found in Eastern and Western Himalayas, South China and Northeast India.

The Poba RF, where the snake was found, is one of the last remaining patches of low elevation tropical wet forest in the upper Brahmaputra valley. But it has the lowest available protection status.