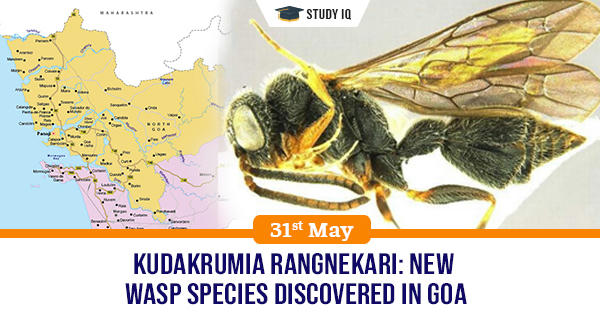 Kudakrumia rangnekari: New wasp species discovered in Goa
Date: 31 May 2019
Tags: Biodiversity
A new species of wasp named Kudakrumia rangnekari was discovered recently in Goa. It was discovered in the forests of Western Ghats forests from Cotigao Wildlife sanctuary (located in South Goa district).
About Wasp
It is member of group of insects in the order Hymenoptera, suborder Apocrita. It is neither a bee nor an ant. It is distinguished from ants and bees by various behavioral and physical characteristics. It has slender, smooth body and legs with relatively few hairs. It generally predatory or parasitic and has stingers with few barbs. It is proficient in controlling pest populations and is deployed to protect crops. It also play important role in pollination of plants.
Kudakrumia rangnekari
It belongs to genus Kudakrumia (It is genus of primitive wasps that previously was known only from Sri Lanka). It has been named after Goa-based researcher Parag Rangnekar. It is fund from Kotigao Wildlife Sanctuary of Goa of northern Western Ghats and its paratype is from Ranipuram hill of Kerala of southern Western Ghats.
Parag Rangnekar
He is the author of a book "Butterflies of Goa", which is first field guide with photographs of species found in this region. It has documented record of 220 butterfly species in Western Ghats region near Goa, of which 13 species had not been described before. He is the founder-president of Goa Bird Conservation Network.