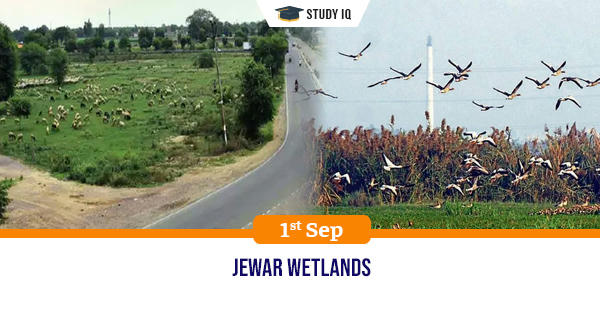 Jewar wetlands
Date: 01 September 2019
Tags: Biodiversity
Issue
The Yamuna Expressway Industrial Development Authority (YEIDA) has roped in the Dehradun-based Wildlife Institute of India (WII) to study the ecology around the upcoming Jewar international airport. YEIDA wants WII to come up with a plan to conserve the environment that would be affected by the project.
Background
A MoU between YEIDA and WII was signed and under the pact, a team of experts from WII will conduct the study and submit its plan, to protect the flora and fauna in the 10km radius around the upcoming airport.
Details
The Jewar airport will be a Greenfield airport which is being developed in Uttar Pradesh. The Jewar wetlands will be affected by this project.

The WII experts will study the area for the number of trees to be cut and replanted, the number of wetlands that need to be restored, and the flora and fauna of the area.
Jewar Wetlands
The land at the project site is primarily agricultural in nature, with over 6,000 big trees made of arjun and babool and plenty of wetlands. Jewar wetlands are home to Sarus cranes, peacocks and blackbucks.
Wetlands and their importance
Wetlands are part of the hydrological cycle, which begins with the evaporation of water from the ocean. As moist air is lifted, it cools and condenses to form clouds and returns to the earth as precipitation.

Once the water reaches the ground, some of it evaporates back into the atmosphere and rest penetrates the surface and becomes groundwater.

The wetlands are often primary sources of water for human and animal consumption and irrigation in rural areas.

They provide rich biodiversity, control floods, maintain the groundwater table and are a source of recreation and livelihood to communities involved in boating, fishing, farming of water chestnut, fox-nut and lotus among others.