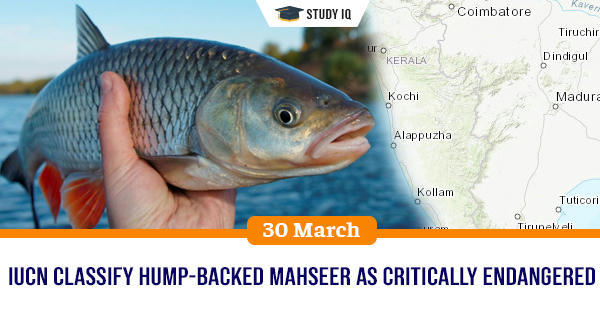 IUCN classify Hump-Backed Mahseer as Critically Endangered
Date: 30 March 2019
Tags: Biodiversity
International Union for Conservation of Nature (IUCN) has added Hump-Backed Mahseer as "Critically Endangered" in its Red List of Threatened Species. It is now more threatened than the tiger.
Hump-Backed Mahseer
It is species of freshwater ray-finned fish endemic to the Western Ghats in southern India.

It is also called the tiger of water as it one of the largest, hardest fighting and most iconic freshwater game fish in the world.

It can grow up to 1.5 metres in length and weigh about 55 kg. It has an omnivorous diet and feeds on fish, crustaceans, molluscs, frogs, fruits and algae.

It is found only in Cauvery river basin (including Kerala's Pambar, Kabini and Bhavani rivers.

It is facing threat of extinction due to construction of dams on course of its river habitat which has limited place to migrate and inhibited its growth, pollution of river from industrial waste, deforestation, sedimentation, drought etc.
International Union for Conservation of Nature (IUCN)
It is an international organisation working in the field of nature conservation and sustainable use of natural resources and sustainable use of natural resources.

It was founded in 1948 and is world's oldest and largest global environmental organization. It is headquartered in Gland, Switzerland.

It is involved in research, field projects, data gathering and analysis, advocacy, lobbying and education.

In recent times it has widened its focus beyond conservation of ecology and now incorporates issues related to gender equality, poverty alleviation and sustainable development.

It has membership of over 1400 governmental and non-governmental organizations (NGOs).

It has observer and consultative status at United Nations, and plays key role in the implementation of several international conventions on nature conservation and biodiversity.

It was involved in establishing World Wide Fund for Nature (WWF) and World Conservation Monitoring Centre.

It compiles and publishes IUCN Red List, which assesses the conservation status of species worldwide. It is used as standard to understand the conservation status of species.