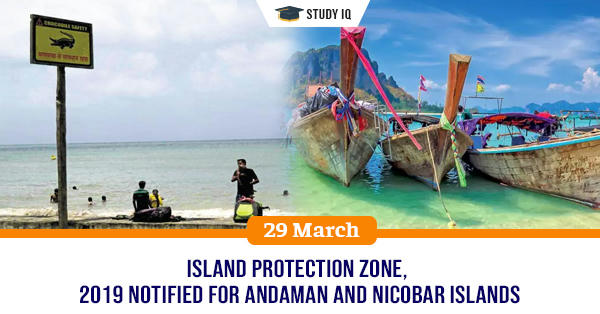 Island Protection Zone, 2019 notified for Andaman and Nicobar Islands
Date: 29 March 2019
Tags: Biodiversity
Union Ministry of Environment, Forests and Climate Change (MoEFCC) has notified Island Protection Zone (IPZ) 2019 for Andaman and Nicobar Islands. It replaces IPZ notification of 2011. It relaxes development norms in islands compared to IPZ notification of 2011. It brings norms for Andaman and Nicobar at par with coastal regulation zone (CRZ) norms for other islands close to mainland and backwater islands where No Development Zone (NDZ) is only 20 metres from High Tide Line (HTL).
Key Features of IPZ, 2019
Eco-tourism projects:

They are now allowed 20 metres from HTL in smaller islands like Havelock, Baratang and Car Nicobar and at 50 metres in larger ones. It allows for eco-tourism activities like nature trails, mangrove walks and tree huts in island coastal regulation zone IA. Zone IA is the most eco-sensitive region of Andaman & Nicobar Islands which includes turtle nesting grounds, marshes, coral reefs etc.

Development Activities:

It allows construction of roads and also roads on stilts by reclaiming land in exceptional cases for public utilities, strategic purposes or defence installations in eco-sensitive zones. It makes mandatory compensatory plantation of mangroves minimum three times the mangrove area destroyed during construction of such roads.

It also allows new activities ininter-tidal zone between HTL and low tide line. This includes land reclamation and bunding for foreshore facilities like harbours, ports, jetties, quays, wharves, sea links etc.

It also allows transfer of hazardous substances from ships to ports, mining of sand for construction purposes, manual mining of atomic minerals with permission from local authorities in non-eco-sensitive sites.
Background
The legal changes in IPZ for for Andaman and Nicobar are aligned with NITI Ayog's proposal for holistic development in islands which is being taken forward under guidance of Island Development Agency. Union cabinet had approved CRZ notification December 2018, which relaxed number of provisions in CRZ 2011 to facilitate infrastructure development and construction on coast, including easing floor area ratio (FAR) in coastal urban areas and slashed NDZ in densely populated coastal rural areas to 50m from HTL as compared to 200m earlier.