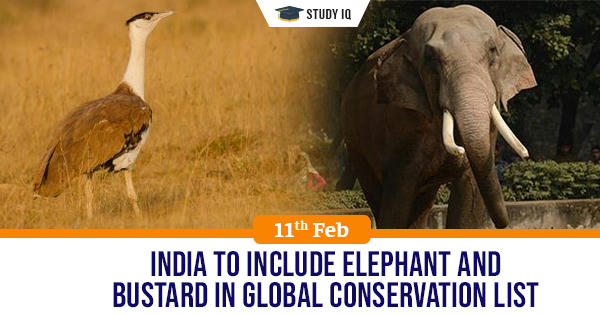 India to include Elephant and Bustard in global conservation list
Date: 11 February 2020
Tags: Biodiversity
Issue
India will be moving to include the Asian Elephant and the Great Indian Bustard in the list of species that merit heightened conservation measures.
Background
The list will be debated at the 13th Conference of Parties (COP) of the Convention on the Conservation of Migratory Species of Wild Animals (CMS), an environment treaty under the United Nations Environment Programme (UNEP).
Details
The COP is scheduled to be organised from February 17 to 22 in Gandhinagar, Gujarat. There are 130 parties to the convention and India has been a member since 1983.

Having the elephant and the Great Indian Bustard in the list, more formally known as Appendix 1, would coax countries neighbouring India, where wild animals such as tigers and elephant foray into, to direct more resources and attention to protecting them. There are now 173 species in the Appendix 1.

Along with these, seven species that include Dugong, Whale Shark, Marine Turtle (two species), have been identified for preparation of Conservation and Recovery Action Plan.

The elephants merits the highest level of protection, or Schedule 1, under the Wildlife Protection Act.
UN Environment Program
UNEP is a programme of the United Nations that coordinates the organization's environmental activities and assists developing countries in implementing environmentally sound policies and practices, as a result of the United Nations Conference on the Human Environment (Stockholm Conference) in June 1972.

UNEP's activities cover a wide range of issues regarding the atmosphere, marine and terrestrial ecosystems, environmental governance and green economy.

Hq: Nairobi, Kenya.